From the April 4, 1931 issue
PASCHAL FLOWERS BLOOM ON PRAIRIES OF THE WEST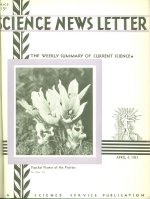 Easter-Tide is remembered in America by two names, one of a place, the other of a flower. When the youth-seeking Ponce de Leon sighted the coast of the New World it was on Easter morning, and accordingly he named the place he had found Pascua Florida, or Flowery Easter. We have dropped the noun and kept the adjective, as Florida.
When the French voyageurs pushed out into the western prairie country they found many strange and beautiful flowers, but none lovelier than the blue chalices that opened up in the countless clumps and clusters among the new grass during the fortnight before and after the Paschal feast. So they named them Easter flowers, and the pious early French Pasque has remained to us as a part of the rights of the Louisiana Purchase.
Science News headlines, in your inbox
Headlines and summaries of the latest Science News articles, delivered to your email inbox every Thursday.
Thank you for signing up!
There was a problem signing you up.
TEST DEVISED FOR MEASURING EFFICIENCY OF THE HEART
A new test for heart efficiency was reported by Dr. Allen Eustis of New Orleans to the American College of Physicians meeting in Baltimore last week.
Subscribe to Science News
Get great science journalism, from the most trusted source, delivered to your doorstep.
The test is a valuable aid in the diagnosis and study of the type of heart disease known as myocardial insufficiency. The test may also be used with caution in cases of marked enlargement of the heart, angina pectoris, and certain cases of high blood pressure. By means of this test the physician will have a new gauge of how well the diseased heart can function. The test depends on the rise in the systolic blood pressure following an increase in pressure within the chest caused by forcible expiration of the full breath under a definite amount of pressure. Dr. Eustis reported that clinical evidence corroborated the results of the test.
ELECTRONS AND PROTONS PAIRED IN ATOM NUCLEUS
Atoms whose weight-bearing cores contain even numbers of both electrons and protons are twenty times more frequent than all others, Prof. William D. Harkins of the University of Chicago has reported. Of all the chemical elements found on the Earth, said Prof. Harkins, 95 percent belong to a class in which each building stone of the atomic core has a mate.
The electrons of a pair in the central heart of the atom are not absolutely identical, however. One is spinning in the opposite sense to the other. Thus the nucleus as a whole is free from spin. These facts throw very important light on the stability of atoms and therefore on the reason why some chemical elements, like radium, are continuously disintegrating into simpler atoms.