Advertise in Science News
Celebrating our 100th anniversary, Science News is the award-winning, trusted source for clear, credible and concise news in all areas of science. The biweekly magazine — available in print and digital editions — reaches over 113,000 subscribers and more than 200,000 readers.
Each month our companion websites, ScienceNews.org and ScienceNewsForStudents.org, reach over 2 million and 1 million unique visitors, respectively – a readership driven by an engaged social media audience that includes 2.6 million Facebook and 3.7 million Twitter followers.
Advertising in Science News in print, online and in our weekly e-newsletters allows partners to reach a highly loyal, educated and influential audience: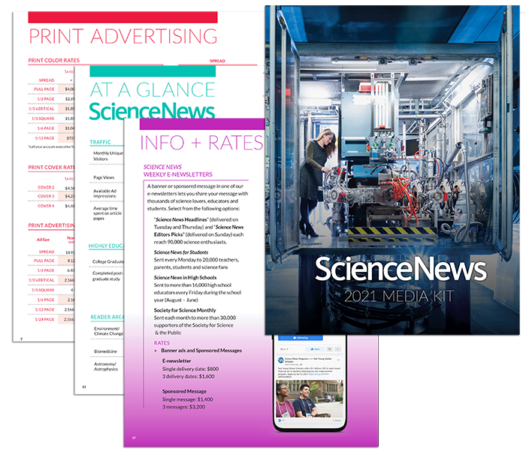 90% of Science News readers in print and online have college or post-graduate degrees
The average Science News reader has an annual income of over $130,000
82% read four out of four issues and 52% pass it along to one or two other readers*
Plus, your message will also reach the classrooms of 4.8 million STEM students and 16,000 educators who have access to our Science News in High Schools program, which provides ten copies of each issue (and full digital access) along with corresponding educator guides to 5,000+ high schools in all 50 states and D.C.
Our Science News and Science News for Students e-newsletters reach a combined total of over 130,000 recipients, and the Society's monthly e-newsletter reaches 30,000 Science News subscribing members and alumni, donors and friends of the Society.
To learn more about how we can make Science News work for you, E-mail a Science News ad representative or call (202) 872-5127.
Download the 2021 Science News media kit
SCIENCE NEWS ADVERTISING GUIDELINES: All advertising is subject to the approval of Science News. Science News may refuse any advertisement deemed unsuitable for publication in Science News or on ScienceNews.org at its sole discretion for any reason whatsoever. All ads published in Science News must comply with applicable U.S. and International laws, and may not be indecent, obscene, defamatory, fraudulent or misleading. Advertising may not represent that Science News in any way endorses the Advertiser and/or the Advertiser's products or services. Advertisers and agencies agree to hold Science News harmless from any and all claims or suits arising out of advertising published.
*Figures are from a March 2015 Readex readership survey conducted by Society for Science.