From the July 11, 1936, issue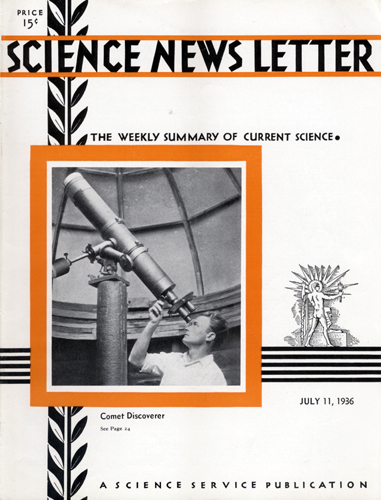 PELTIER COMET BECOMES VISIBLE TO EYE ON JULY 14
One of the most spectacular celestial displays since famous Halley's comet swept the sky in 1910 will be the appearance of the new Peltier comet to observers using only their own eyes, about the middle of July.
On the night of May 14, Leslie C. Peltier, of Delphos, Ohio, one of America's best-known comet hunters (with four comet discoveries then already to his credit), was scanning the northeast sky with his small telescope. Just below the constellation of Cepheus east of the North Star he saw a blurry, diffuse glow which was out of place in the well-charted vistas of the sky. From a little after 10 p.m. until 1 a.m. he watched it, although at first it seemed not to move. Its motion, if any, was extremely slow. On the morning of May 15, Peltier wired to Dr. G. Van Biesbroeck of Yerkes Observatory, Williams Bay, Wisc., this cryptic message:
Science News headlines, in your inbox
Headlines and summaries of the latest Science News articles, delivered to your email inbox every Thursday.
Thank you for signing up!
There was a problem signing you up.
"Verify extremely slow motion ninth magnitude comet, 23 h 59 m plus 74 degrees."
The hours and minutes, with the degrees sign, told Dr. Van Biesbroeck where to turn the large, 40-inch diameter refracting telescope of Yerkes in the sky and confirm the find.
Subscribe to Science News
Get great science journalism, from the most trusted source, delivered to your doorstep.
STARS ARE FACTORIES FOR MAKING RADIATED ENERGY
The inside of a star is a factory which makes complex elements out of the simplest element of all, namely, hydrogen. This is the point of view presented to the meeting of the American Physical Society in Seattle by Dr. R.M. Langer of the California Institute of Technology.
ELECTRICITY OF BLOOD CELLS ENOUGH TO LIGHT A LAMP
The red blood cells of man and animals as carriers of electricity are being studied at the Biological Laboratory, Cold Spring Harbor, Long Island, it was revealed before the meeting of the American Physical Society, in Rochester, N.Y.
Dr. Laurence S. Moyer and Dr. Harold A. Abramson reported that red blood cells of man, among the animals studied, have the highest effective electrical charge at their surface, equivalent to 15 million electrons. Electrons are the unit charges of electricity.
Studies of the amount of electricity carried by the blood cells have an important relationship to such basic human problems as the coagulation properties of the blood and problems connected with the anemias.
A good idea of the size of this surface charge may be obtained from the estimation that if the charges from blood of a full-grown man could be collected and made to pass through a 25-watt electric bulb, it would burn for at least 5 minutes.