From the July 28, 1934, issue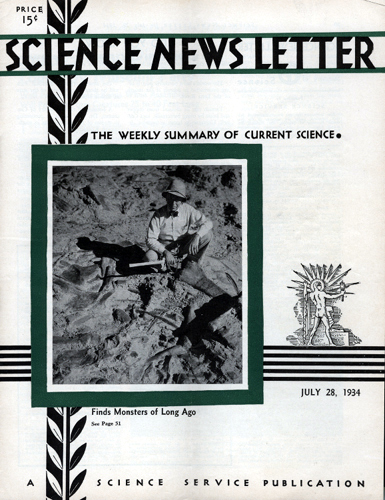 TWELVE SWAMP DINOSAURS FOUND BY MUSEUM PARTY
Twelve gigantic prehistoric animals, dinosaurs that roamed lakes and swamps of 125 million years ago, have been discovered by Dr. Barnum Brown, curator of fossil reptiles of the American Museum of Natural History, New York, some 25 miles east of Greybull, Wyo., in the foothills of the Big Horn Mountains.
Enough bones have been uncovered to cause Dr. Brown to feel that "we have stumbled upon one of the greatest fossil mines in the paleontological history of America."
Science News headlines, in your inbox
Headlines and summaries of the latest Science News articles, delivered to your email inbox every Thursday.
Thank you for signing up!
There was a problem signing you up.
At present, the dinosaur remains are simply a large pile of loose bones, but when assembled eventually as museum exhibits their skeletons will probably show that the sauropod dinosaurs, believed to belong to a hitherto unknown species, ranged in size from 25 to 40 feet in length and from 10 to 14 feet in height. They were salamander-like creatures.
Dr. Brown, as head of the American Museum-Sinclair dinosaur expedition, has been excavating in the vicinity of Keyhole Canyon since the early part of June, and these excavations are now producing dramatic and surprising results. For Dr. Brown had expected to find only two sauropods instead of twelve.
Subscribe to Science News
Get great science journalism, from the most trusted source, delivered to your doorstep.
OLD VIOLIN MAKERS' SECRETS REVEALED BY X-RAY ANALYSIS
The secret of the tone of violins fashioned by such famous makers as Stradivarius, Amati, Pique, and others, has been discovered.
Through X-ray studies of structure of wood in violins of various origins, Dr. K. Lark-Horovitz and W.I. Caldwell, physicists of Purdue University at Lafayette, Ind., have found that proper selection of wood is more important for the quality of the instrument than treatment and varnish.
By careful selection of wood as a result of the Purdue researches it will be possible, it is believed, to make modern violins that are the equal in tone to those by famous makers.
CANCER CAUSED BY VIRUS PRESENT IN EVEN NORMAL CELLS
Within seemingly normal cells of human bodies, there is always a virus capable of causing cancer. Whether or not the disease develops depends upon whether a physiological "trigger" in the form of mechanical or chemical irritation sets free the virus.
This new theory of cancer with evidence for its support is presented by Dr. C.H. Andrewes of Britain's Medical Research Council.
Dr. Andrewes' report to the Royal College of Surgeons appearing in the Lancet is commended by the editor of the Lancet as "by far the most comprehensive survey" of the subject yet presented.
When irritants initiate malignancy, Dr. Andrewes believes, no virus enters the body. It has always been there, dormant, pending the trigger mechanism that sets off the malignant process. Such mechanical balance would explain the graduations from benignancy to extreme malignancy that are seen in tumors.