From the March 14, 1931, issue
NEW WELDED PIPE LINE CARRIES WATER TO SAN DIEGO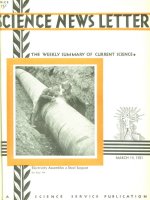 On the front cover of this weeks SCIENCE NEWS LETTER, the cameraman has caught two electric arc welders tying in an important section of a 19-mile-long steel serpent, 40 inches in diameter in some places and 36 inches in others, that will carry water from reservoirs on the Cottonwood and Otay Rivers of California to San Diego. This is one of the newer applications of the process of welding, which is constantly finding greater use in industry.
Science News headlines, in your inbox
Headlines and summaries of the latest Science News articles, delivered to your email inbox every Thursday.
Thank you for signing up!
There was a problem signing you up.
AGE OF EARTH DETERMINED AS OVER 2,000,000,000 YEARS
The age of the earth is at least 2,000 million years. This is the verdict of a committee of scientists appointed by the National Research Council who have investigated for the past 4 years this basic problem of science.
The radioactive minerals uranium and thorium, which spontaneously disintegrate into lead, give the best clue to Earths age. By carefully analyzing the radioactive minerals and their products in a sample of rock, it is possible to tell how long it has been in existence.
Subscribe to Science News
Get great science journalism, from the most trusted source, delivered to your doorstep.
The oldest rock in the world whose age has been determined in this way is a piece of uraninite, or uranium-bearing rock, from Sinyaya Pala, Carelia, Russia. It is 1,852 million years old. As it occurs in rocks that were intruded into the surrounding rocks, which therefore must be older, the scientists conclude that the age of Earth must be in round numbers at least 2,000 million years.
MOON LACKS OXYGEN, ITS LIGHT PROVES
The nearly complete absence of oxygen from the surface atmosphere of the moon has been directly proved by examination of the ultraviolet rays present in full moonlight.
Dr. Brian OBrien of the University of Rochester announced this conclusion to the American Physical Society as a result of his measurements of the spectrum, or rainbow, of moonlight.