From the March 2, 1935, issue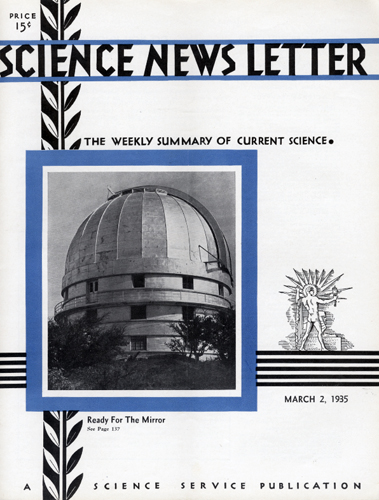 TELESCOPE SITE HAS 300 CLEAR NIGHTS A YEAR
The giant dome for the McDonald Observatory pictured on the front cover of this week's Science News Letter is now completed and ready for the installation of its huge, 80-inch telescope as soon as the instrument has been ground.
Mount Locke, in Texas, was selected as the site for the new telescope because a survey showed that the location is blessed with more than 300 clear nights a year on which astronomers will be able to watch the stars.
Science News headlines, in your inbox
Headlines and summaries of the latest Science News articles, delivered to your email inbox every Thursday.
Thank you for signing up!
There was a problem signing you up.
GLAND THERAPY TREATS HEART DISEASE SUCCESSFULLY
Subscribe to Science News
Get great science journalism, from the most trusted source, delivered to your doorstep.
Remarkable success in the treatment of heart disease by removal of the normal thyroid gland was described at the University of Minnesota by Dr. Elliott Carr Cutler, surgeon-in-chief of Peter Bent Brigham Hospital, Boston, and professor of surgery at the Harvard Medical School.
Dr. Cutler discussed this radical and sensational form of surgery wherein a part of the body distant to the diseased part but having an effect upon it is attacked by the surgeon, as an example of the surgery of the future.
He spoke of this change in the treatment of the body as a unit as "a progression from anatomical to physiological surgery."
"It is a step," he said, "representing the greatly increased knowledge of the function of the body and offering the hope that surgery will become less and less a method by which parts of the body have to be removed in order to effect relief."
Reporting observations made on 64 cases in which the thyroid was removed, Dr. Cutler said that "in spite of the almost hopeless condition of many of the cases either because of decompensation or angina pectoris, results were far more favorable than those following any other methods of therapy."
NEW COLDEST COLD REACHED IN LEYDEN LABORATORY
From the world-famous low-temperature laboratory of Leyden University in the Netherlands a new low in the "coldest cold" temperature is reported. Prof. W.J. De Haas and his colleagues have reached one five-thousandth of a degree above absolute zero in their experiments.
Absolute zero is 273.15 degrees below zero on the centigrade scale and 459.6 degrees below zero on the Fahrenheit classification.