From the March 28, 1931 issue
PRINCE LION-CUB SPEAKS A WORD FOR HIMSELF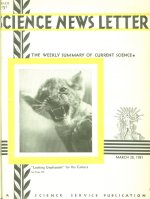 Milk-teeth are all he has as yet, and most of his active hours are spent in kittenish play; but let something happen to displease him, and for a moment the lion cub gives a hint of the royal terror that will clothe him when he reaches maturity. The protesting youngster pictured on the cover of this issue of the SCIENCE NEWS LETTER was photographed by Hedda Walther for Paul Eippers book, "Animal Children. Copyright 1930, by the Viking Press, Inc., New York. Reproduced by permission.
Science News headlines, in your inbox
Headlines and summaries of the latest Science News articles, delivered to your email inbox every Thursday.
Thank you for signing up!
There was a problem signing you up.
EINSTEIN FINDS PAST EVENTS NOT KNOWABLE WITH CERTAINTY
Prof. Albert Einstein has concluded that past events of any sort cannot be described with precise certainty.
This amazing extension of the principles of the new physics is contained in a letter to the editor of the Physical Review, journal of the American Physical Society. Prof. Einstein, jointly with Prof. Richard C. Tolman and Dr. Boris Podolsky of the California Institute of Technology, wrote this communication just before he left Pasadena to return to Germany.
Subscribe to Science News
Get great science journalism, from the most trusted source, delivered to your doorstep.
Not only does Prof. Einstein conclude that there is an uncertainty in the description of what has happened in the submicroscopic world with which the most recent theories of physics usually deal. He applies this disconcerting principle of uncertainty to such everyday happenings as the opening and closing of a shutter on a camera. We cannot know exactly just when a shutter opens or closes.
It is of special interest to emphasize the remarkable conclusion that the principles of quantum mechanics would actually impose limitations on the localization in time of a macroscopic phenomenon such as the opening and closing of a shutter, Prof. Einstein and his two colleagues write.
PHYSICISTS NOW SURE VIBRATIONS OCCUR IN HEART OF ATOM
Vibrations within the innermost core of the atom have been proved to exist by firing high-speed alpha rays into aluminum atoms, scientists of the Physical Institute of the University of Halle report.
The capture of a helium bullet by the excessively small heart or nucleus of an aluminum atom has been used in this work by Dr. H. Pose and Prof. G. Hoffman to probe the last great secret of the structure of matter. For the collision of the alpha particle with the aluminum atoms is the signal for the ejection from the aluminum nucleus of a still faster kind of rays, the proton rays.