From the May 4, 1935, issue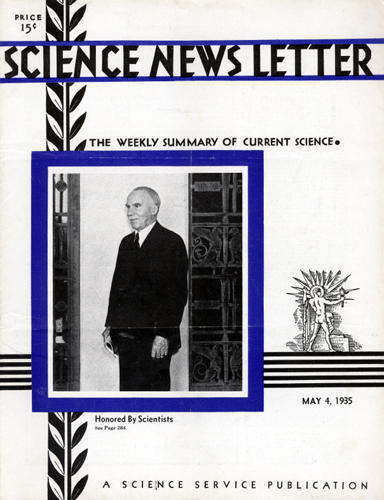 DR. FRANK R. LILLIE HEADS BOTH ACADEMY AND NRC
Doctor Frank R. Lillie was elected president of the National Academy of Sciences for a 4-year term, an office considered the highest within the gift of American science. He is Canadian born and has been serving both as dean of the division of biological sciences at the University of Chicago and as president of the Woods Hole, Mass., Marine Biological Laboratory.
ELEMENT 93 DISCOVERY IS NOW CONFIRMED BY AMERICAN
Science News headlines, in your inbox
Headlines and summaries of the latest Science News articles, delivered to your email inbox every Thursday.
Thank you for signing up!
There was a problem signing you up.
Two super-heavy chemical elements creatable by science in the laboratory almost certainly lie beyond the confines of the 92 elements in the familiar periodic table, Dr. Aristid V. Grosse, physical chemist of the University of Chicago, indicated in an interview with a Science Service representative while present at the meeting of the American Philosophical Society in Philadelphia.
First definite proof for the existence of these two new elements has just been reported from Italy and Germany, Dr. Grosse said, and convinces him that the earlier preliminary claims for the discovery of element 93, in particular, can now be accepted as fact.
Subscribe to Science News
Get great science journalism, from the most trusted source, delivered to your doorstep.
MONKEY SWINGING ON TRAPEZE AIDS IN STUDY OF BRAIN
A young monkey swinging nimbly on the flying trapeze is demonstrating to scientists at Yale University that parts of the brain are not nearly so specialized in their functioning as has been supposed.
While the monkey was an infant, an injury deprived him of the use of that part of the outer layer of his brain which is known to scientists as the motor area. Despite this, the baby monkey developed normally. He runs about and plays, jumps, climbs, and swings from the trapeze.
This monkey on the flying trapeze is contributing to a study of the brain functioning of apes and monkeys by Drs. Carlyle F. Jacobsen and George M. Haslerud, who are experimenting with these animals because of their close similarities to man.
The young monkey is proving that the normal function of this part of the brain can be taken over in the young animal by other parts of the brain and nervous system. In the adult, no amount of re-education has ever brought about such a transfer of functions.