From the November 3, 1934, issue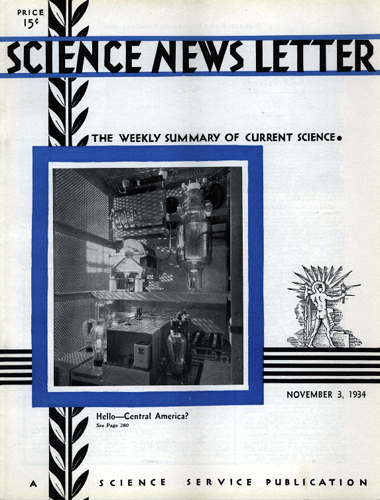 BEAUTY COOPERATES WITH THE ENGINEER
Interior of one of the transmitters built in the Bell Telephone Laboratories for the Central American radio-telephone service is the subject of the illustration on the front cover of the Science News Letter.
TAKES BITTER TASTE OUT OF MEDICINE; ADDS VALUE
Subscribe to Science News
Get great science journalism, from the most trusted source, delivered to your doorstep.
By finding a way to take the bitter taste out of certain medicines, Dr. James C. Munch, director of research at Temple University School of Pharmacology, has not only made himself the friend of many patients who rebel at the unpleasant doses they must swallow but has also added to the benefit they can derive from the medicines.
Science News headlines, in your inbox
Headlines and summaries of the latest Science News articles, delivered to your email inbox every Thursday.
Thank you for signing up!
There was a problem signing you up.
In the case of quinine, bitter but effective malaria remedy, for instance, the use of proper solvents for the drug makes it possible for the physician to give doses five to six times as strong as could previously be administered.
A medicine can be so bitter that it is impossible to take it, Dr. Munch pointed out.
Before beginning this research it was necessary for Dr. Munch to establish a standard taste scale, for bitterness is a matter of degree. Once having established this scale, so that it was possible to say that something was twice as bitter as something else, it was necessary to find certain inert solvents or carriers for the drugs that would in no way affect the drugs themselves. Drugs were found to be more bitter in some solvents than in others. The first tests were made with strychnine. Dr. Munch said, regarding these tests:
"The tongue is more sensitive than the most delicate chemical reaction."
PLANETS HAVE COMPOSITION SIMILAR TO THAT OF THE SUN
The Earth and the other planets are apparently made of the same stuff as the sun.
Prof. Henry Norris Russell, the Princeton astronomer, discussing the subject at Mt. Wilson Observatory, Calif., observed that not only are the same elements present to a large extent both on the sun and the Earth, but that, contrary to previous notions, there seems to be about the same proportions of each in the two cases. This fits the notion that the planets were formed of masses of matter ejected from the surface of the sun.