From the October 10, 1931, issue
X-RAYS FIND NEW BEAUTIES FOR STUDENTS OF FLOWERS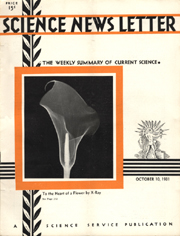 Searching the secrets of a flowers heart acquires new esthetic significance at least, and may become of importance in plant physiology and anatomy, too, through an X-ray technique developed by Mrs. Hazel Engelbrecht of Des Moines. It is not the first time that X rays have been used on flowers, but Mrs. Engelbrecht has brought to bear a rare combination of most sensitive control of her unusual medium and an appreciation of pictorial composition that makes the result, though novel, art in its truest sense.
SCIENTIST SAYS UNIVERSE IS ACTUALLY EXPLODING
The universe is actually exploding and the galaxies are scattering apart at a terrific rate, Sir Arthur Eddington, professor of astronomy at Cambridge University, contended before the British Association for the Advancement of Science 100th-anniversary meeting. In support of his contention, he presented computations based solely on pure mathematical and physical theory, without the use of astronomical data. The rate of nebular recession thus obtained is in close accord with Dr. Edwin P. Hubbles Mt. Wilson Observatory figures for the red shift of nebular spectra.
Prof. Hubble said, "Detailed theories of stellar evolution are overshadowed by the fact that the time scale is again in the melting pot. With a rapid-expansion universe, a very long time scale of billions of years, fashionable recently, becomes exceedingly incongruous. We have to accept an age of 10 to the 10th power, or 10 billion, years for galaxies and presumably also for stars."
From astronomy to zoology
Subscribe to Science News to satisfy your omnivorous appetite for universal knowledge.
HARMLESS CHEMICAL PROVING EFFECTIVE AS CLEANSING AGENT
A new and powerful chemical for cleansing purposes is described by Chester L. Baker, industrial chemist of Berkeley, Calif., in a report to the American Chemical Society. The preparation is known to chemists as sodium metasilicate. It is proving especially effective in commercial milk-bottle washing and other operations where a very thorough riddance of grease from glass is necessary.
Unlike soap, the new cleanser calls for no vegetable or animal matter in its manufacture. It is very closely related to water-glass, the syrupy product employed commonly in egg preservation. Like water-glass, it requires only soda and sand as its essential chemical sources.