The Society's Top 10 moments of 2018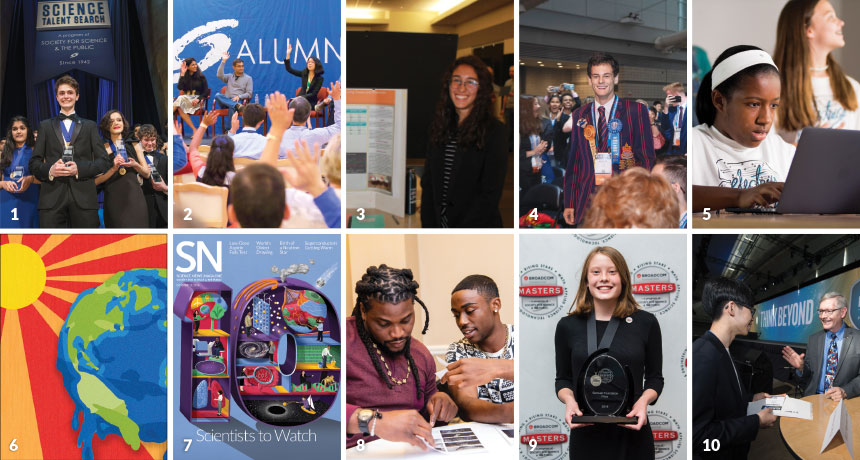 1. Regeneron Science Talent Search
Benjamin "Benjy" Firester of New York City won the top award of $250,000 in March in Washington, D.C., at the Regeneron Science Talent Search 2018, a competition for high school seniors. He developed a mathematical model that uses disease data to predict how weather patterns could spread spores of the late blight fungus, which caused the Irish Potato Famine.
2. National Leadership Council
In April, Society for Science & the Public unveiled a new National Leadership Council made up of 20 alumni from the Society's three science competitions. The council will advise the Society on key opportunities to help foster lifelong connections among the alumni community.
3. Advocates
In May, the Society named 50 Advocates — educators and scientists — who will work to find opportunities for underrepresented students to participate in science research competitions, inspiring the students to engage in science, technology, engineering and mathematics, or STEM, fields.
4. Intel International Science and Engineering Fair
Nearly 1,800 young scientists selected from 420 affiliated fairs in 81 countries, regions and territories competed in Pittsburgh in May at the Intel International Science and Engineering Fair 2018 — an international pre-college competition. Oliver Nicholls of Sydney won the first-place prize of $75,000 for designing and building a prototype of an autonomous robotic window cleaner.
5. STEM Action & Research Grants
The Society was proud to award $100,000 to 24 middle school science teachers to purchase much-needed equipment and $30,000 to seven innovative organizations supporting community-based STEM projects through our STEM Action & Research Grants Program.
6. Climate Change Chronicles
In September, Science News for Students launched a 10-month series called Climate Change Chronicles. The daily online magazine for middle school students, parents and educators is looking at how climate change is already impacting Earth, the new science behind those changes and what a warmer future may mean for the planet's species.
7. SN 10: Scientists to Watch
For the fourth year, Science News highlighted 10 early- and mid-career scientists who are poised to solve some of the most important questions facing science and society. This year's SN 10, announced in September, were Shahzeen Attari, Emily Balskus, Ibrahim Cissé, Christopher Hamilton, Paula Jofré, Lisa Manning, Joaquín Rodríguez-López, Anshumali Shrivastava, Douglas Stanford and Jenny Tung.
8. Science News in High Schools
Science News in High Schools, a program that provides educators with access to Science News, is available in more than 4,300 schools during the 2018–2019 school year. The program supports more than 15,000 educators, with a potential reach of 4.1 million students.
9. Broadcom MASTERS
Georgia Hutchinson of Woodside, Calif., won the $25,000 Samueli Foundation Prize during the Broadcom MASTERS, a STEM competition for middle school students. She won the award in October in Washington, D.C., for her project on developing more efficient and cost-effective solar panels.
10. New Board Members
Nobel Prize–winning scientist W.E. Moerner (shown above, right), MacArthur Fellow Dianne K. Newman and San Francisco 49ers co-owner Gideon Yu joined the Society's Board of Trustees in 2018.