From the April 18, 1931, issue
STABILIZER REDUCES ROLLING ON ROUGHEST SEAS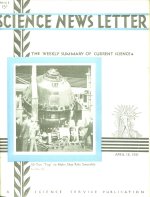 Even during the stormiest weather there should be no sea-sick passengers on the vessel that will carry in her hold the 120-ton gyro-stabilizer pictured on the front cover of this weeks SCIENCE NEWS LETTER. The photograph shows the stabilizer on test in the South Philadelphia Works of the Westinghouse Electric and Manufacturing Co., where it was built to the order of the Sperry Gyroscope Co. for a foreign shipbuilder.
Science News headlines, in your inbox
Headlines and summaries of the latest Science News articles, delivered to your email inbox every Thursday.
Thank you for signing up!
There was a problem signing you up.
The huge stabilizer is 11 feet in diameter. The rotor alone weighs 55 tons and is spun at 930 revolutions per minute by a built-in 200-horsepower motor.
BUREAU OF STANDARDS FIRST IN THIS COUNTRY TO LIQUEFY
HELIUM
Subscribe to Science News
Get great science journalism, from the most trusted source, delivered to your doorstep.
An extremely cold piece of tin conducts electricity 100,000 times better than tin at ordinary temperatures, it was confirmed by physicists of the National Bureau of Standards here when they liquefied helium gas for the first time in the United States.
Helium is the most difficult gas to turn into a liquid. A coil of tin through which electricity was passing was used by scientists as one method of proving that they had achieved the United States greatest cold, a temperature within 3F of the lowest temperature ever created by man. The greatest cold, called absolute zero, is 459 degrees below zero on the Fahrenheit scale. The lowest temperature reached in the Bureau of Standards experiment was minus 456 degrees Fahrenheit, while helium liquefied at minus 450 degrees.
Dr. H.C. Dickinson, Dr. F.G. Brickwedde, W. Cook, R.B. Scott, and J.M. Smoot comprised the group that produced the extremely low temperature. Working in constant danger of their lives, and late at night long after the other scientists had left Uncle Sams great laboratory, they won a friendly race with Johns Hopkins University and the University of California for the honor of being the first institution in this country to liquefy helium.
DISCOVERY OF TWO NEW ESSENTIALS TO LIFE REPORTED BY
CHEMISTS
The discovery of two new essentials to life was reported before the meeting of the American Society of Biological Chemists in Montreal last week. These substances are the metal magnesium and a hitherto unknown constituent of the protein of milk.
A new kind of starvation caused by lack of magnesium and a hitherto unsuspected relation between the adrenal glands of secretion and magnesium as a constituent of the diet were revealed for the first time in the paper presented by Dr. E.V. McCollum and Dr. Elsa Orent of the Johns Hopkins School of Hygiene and Public Health, Baltimore. Convulsive death results from the magnesium lack.