Kid-friendly e-cigarette ads appear to work
Cartoon characters hawking candy flavors can encourage nonsmoking teens to vape or smoke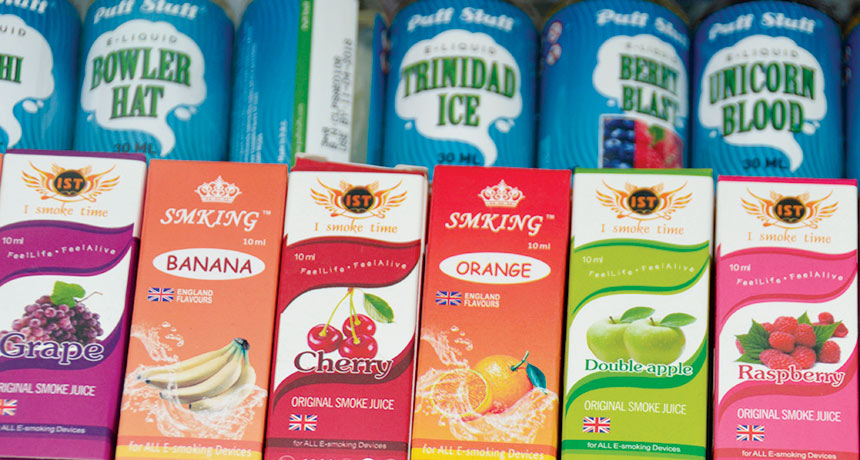 In the United States, cartoon characters are a no-no in cigarette ads, and candy- or fruit-flavored cigarettes can't be sold. But that's not the case for e-cigarettes, and these youth-appealing tactics are luring teens who have never used tobacco products to give e-cigs and even cigarettes a try, a new study suggests.
Researchers analyzed surveys of nearly 7,000 kids ages 12 to 17 who had never used a tobacco product as of 2013 to 2014. Teens who recalled seeing or liking e-cigarette ads were 1.6 times as likely to be open to trying e-cigs or to actually try them the next year as kids who didn't remember the ads, researchers report online March 26 in JAMA Pediatrics. E-cig ads often feature celebrities, cartoons (one product shows a unicorn vomiting a rainbow) or references to sweet flavors, such as Skittles.
Past research has shown a link between traditional cigarette advertisements and receptive nonsmoking adolescents going on to light up. Nearly nine out of 10 smokers tried their first cigarette by age 18. Gearing traditional cigarette ads toward teens has been restricted since 1998.
In 2016, more than 2.1 million U.S. middle and high school students reported using e-cigarettes. That same year, an estimated 20.5 million — or four in five — were exposed to e-cigarette ads.  
But e-cigarette ads are doing more than hyping vaping, the study suggests. The ads also appeared to nudge some teens and young adults to take up cigarette smoking. Of a larger group of about 10,500 kids ages 12 to 21 who had never used tobacco products, 18 percent recalled seeing or liking e-cigarette ads but not cigarette ads. Five percent of those teens had started to smoke by the next year.
Extrapolating to the U.S. population, "105,000 12- to 21- year olds appear to have smoked their first cigarette because of the influence of e-cigarette advertising," says John Pierce, a behavioral epidemiologist at the University of California, San Diego.
Previous research has found that teens who use e-cigarettes are more likely to smoke traditional cigarettes (SN: 9/19/15, p. 14). The fact that e-cigarette ads may up the risk of smoking "raises an unprecedented concern for adolescent tobacco control," addiction psychologist Adam Leventhal and epidemiologist Jessica L. Barrington-Trimis, both of the University of Southern California's Keck School of Medicine in Los Angeles, write in an accompanying editorial in the journal.
In an interview, Leventhal adds that restricting such advertising is an important target for public health campaigns and policies to limit youth use of tobacco products.