From the March 26, 1932, issue
EASTER LILY UNFOLDS TALE TO X-RAY'S PIERCING EYE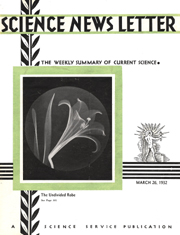 Ordinarily it is necessary to pull a flower to pieces to find what it is doing at any given moment in its development–and that, naturally, precludes one from following its development any further. One must turn to other flowers, at other stages of their unfolding, and ruin them in their turn.
But the X-ray technique evolved by Mrs. Hazel Englebrecht of Des Moines offers the possibility of studying the whole drama of a developing flower or other plant organ, and yet leaving it inviolate, its robe untorn. The cover picture of this issue of Science News Letter shows the beautiful results of the method as applied to the simple structure of the Easter lily, but it is applicable as well to more complex flowers such as snapdragon or beardtongue.
Science News headlines, in your inbox
Headlines and summaries of the latest Science News articles, delivered to your email inbox every Thursday.
Thank you for signing up!
There was a problem signing you up.
GIANT BLAST FELT AS QUAKE BY DISTANT SEISMOGRAPHS
The biggest shot ever fired intentionally–215 tons of dynamite and other high explosives set off in one enormous blast in a limestone quarry near Manistique, Mich.–registered itself as an earthquake on seismograph instruments at points as remote as Buffalo, N.Y.; Madison, Wisc.; and Washington, D.C. Timed at their starting point on an accurate chronograph brought into agreement with radio signals from the U.S. Naval Observatory, the waves were picked up as they swayed the sensitive pendulums of seismographs at several observatories.
Subscribe to Science News
Get great science journalism, from the most trusted source, delivered to your doorstep.
The time at Manistique was clocked by E.J. Brown of the U.S. Coast and Geodetic Survey. A steel shelter was erected about 2,000 feet from the charge to house Mr. Brown and his instruments. His timepiece was a break-circuit chronometer, which was accurately set by time signal from Washington. The shock was recorded chronographically against the chronometer by means of a pendulum-type seismometer placed in the circuit with the chronometer. The pendulum seismometer indicated the duration of the local shock.
"MODERN" BATH TOWELS USED IN EGYPT 4,000 YEARS AGO
Egypt's tombs are again proving that there is nothing new under the sun. Now it is our modern bath towels that are found to be an idea 4,000 years old.
Three linen towels used in Egyptian homes in 2000 B.C. have been discovered in tombs at Thebes by the Egyptian Expedition of the Metropolitan Museum of Art. Towels used then were extraordinarily like our modern bath towels of today, says H.E. Winlock, director of the museum, in reporting the latest discoveries of the expedition.