Pet frogs can transmit salmonella
CDC investigation suggests people think twice about owning common aquarium species
VANCOUVER, British Columbia — Buying your tyke a pet frog might carry a downside that extends well beyond the "ick" factor, a new study finds. Pet African dwarf frogs harboring salmonella have sickened at least 113 people, most of them children, researchers from the Centers for Disease Control and Prevention report.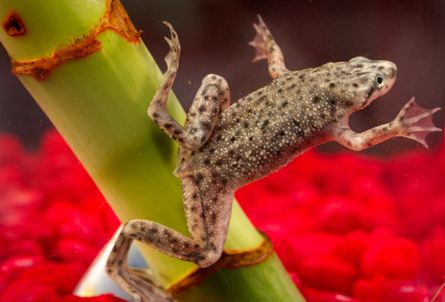 "This is the first multistate outbreak of salmonella associated with frogs," says Shauna Mettee, an epidemiologist at the CDC in Atlanta who presented the findings October 22 in Vancouver, Canada, at a meeting of the Infectious Diseases Society of America.
CDC investigators became curious when doctors began reporting a spate of cases of the typhimurium subspecies of salmonella in 2009. Between April 2009 and March 2010, Mettee and her colleagues identified 113 cases of this infection, three-fourths occurring in children under age 10. The median age of the patients was 5. A sampling of 54 of these patients showed that about one-third needed hospitalization. Symptoms ranged from cramping to severe and even bloody diarrhea. There were no fatalities.
Science News headlines, in your inbox
Headlines and summaries of the latest Science News articles, delivered to your email inbox every Thursday.
Thank you for signing up!
There was a problem signing you up.
Bacteria transmission took many forms. For example, one woman cleaned a frog aquarium in the kitchen sink and subsequently bathed a 3-week-old infant in it, Mettee says.
The researchers traced the infected frogs to a single breeding facility that houses 800,000 to 1 million African dwarf frogs and sells them. Health authorities are now working with the facility's owner to implement cleanup procedures designed to limit salmonella among the animals.
The facility hasn't been shut down or even identified publicly, Mettee says, because "we have no regulatory authority … regarding the sale of frogs."
But that doesn't stop health officials from weighing in on the topic. "Children should avoid all contact with frogs and keep them out of the home," Mettee says.
James Hughes, an infectious disease physician at Emory University School of Medicine in Atlanta and incoming president of IDSA, says these findings "should remind us of the importance of good hand hygiene in the kitchen and other areas of the house, especially if there are reptiles or amphibians in the household."
Amphibians and reptiles can carry salmonella bacteria without appearing sick, says Patricia Griffin, a physician and chief of the enteric diseases epidemiology branch at CDC. She notes that pet turtles, which were popular in the 1970s, were found to expose people to salmonella. Small turtles have since been banned as pets, but some street sales continue, Mettee says.
Since March 31, an additional 57 cases of the salmonella subspecies have been reported. Mettee and her colleagues are now checking whether these cases also trace to frogs from the same breeding facility.