Snot could be crucial to dolphin echolocation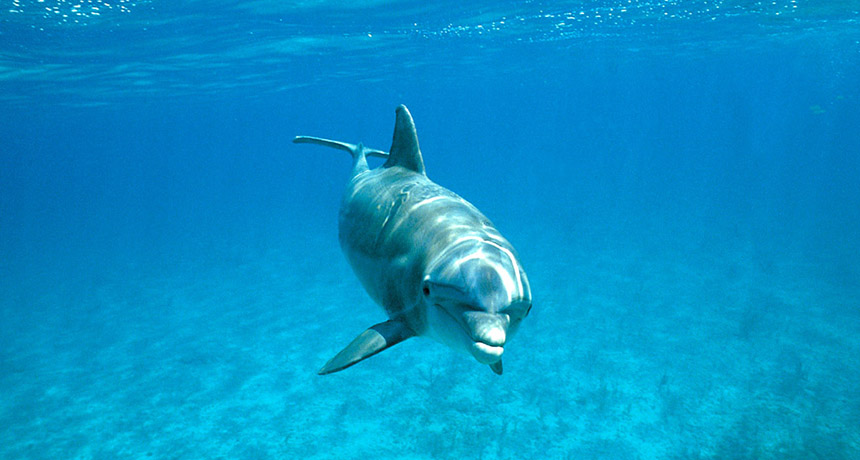 In hunting down delicious fish, Flipper may have a secret weapon: snot.
Dolphins emit a series of quick, high-frequency sounds — probably by forcing air over tissues in the nasal passage — to find and track potential prey. "It's kind of like making a raspberry," says Aaron Thode of the Scripps Institution of Oceanography in San Diego. Thode and colleagues tweaked a human speech modeling technique to reproduce dolphin sounds and discern the intricacies of their unique style of sound production. He presented the results on May 24 in Salt Lake City at the annual meeting of the Acoustical Society of America.
Science News headlines, in your inbox
Headlines and summaries of the latest Science News articles, delivered to your email inbox every Thursday.
Thank you for signing up!
There was a problem signing you up.
Dolphin chirps have two parts: a thump and a ring. Their model worked on the assumption that lumps of tissue bumping together produce the thump, and those tissues pulling apart produce the ring. But to match the high frequencies of live bottlenose dolphins, the researchers had to make the surfaces of those tissues sticky. That suggests that mucus lining the nasal passage tissue is crucial to dolphin sonar.
The vocal model also successfully mimicked whistling noises used to communicate with other dolphins and faulty clicks that probably result from inadequate snot. Such techniques could be adapted to study sound production or echolocation in sperm whales and other dolphin relatives.
Researchers modified a human speech model developed in the 1970s to study dolphin echolocation. The animation above mimics the vibration of lumps of tissue (green) in the dolphin's nasal passage (black) that are drenched in mucus. Snot-covered tissues (blue) stick together (red) and pull apart to create the click sound.
Subscribe to Science News
Get great science journalism, from the most trusted source, delivered to your doorstep.
Video: A. Thode et al
Editor's note: This post was updated on May 24, 2016, to clarify the dolphin sound model animation description.