From the February 14, 1931, issue
SMALL CHANGES OF SUN'S HEAT CONTROL WEATHER ON EARTH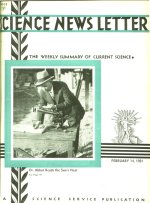 The sun when it radiates heat and light to Earth also broadcasts information that can be used to foretell the weather here on Earth.
Dr. C.G. Abbot, secretary of the Smithsonian Institution, after more than two decades of solar observation, announced today through the medium of a scientific publication entitled "Weather Dominated by Solar Changes" that: "Contrary to the prevailing view, the weather appears to be governed by variations in solar radiation."
Science News headlines, in your inbox
Headlines and summaries of the latest Science News articles, delivered to your email inbox every Thursday.
Thank you for signing up!
There was a problem signing you up.
His discovery seemingly presages a day when we shall be able to tell what the weather will be weeks, months, and perhaps years in the future instead of just tomorrow, as is now the case. Eventually the present method of forecasting from telegraphed weather data as performed twice daily by the U.S. Weather Bureau promises to become an auxiliary instead of a primary method of predicting weather.
SYNTHETIC PETROLEUM TEACHES ABOUT OIL FORMATION IN EARTH
Subscribe to Science News
Get great science journalism, from the most trusted source, delivered to your doorstep.
A clue to the way in which the earth formed the riches of petroleum held within its crust has been made known by Dr. S.C. Lind, director of the School of Chemistry of the University of Minnesota.
The origin of oil is one of the major scientific mysteries of today. While oil supplies are overabundant to fill current demands of autos and the many other consuming needs of modern civilization, scientists have looked forward with fear to an oilless future when the oil of the earth is exhausted.
Dr. Lind explains that he and other chemists have found ways of making synthetic petroleum identical in complexity with the natural oil.
Starting with a simple hydrocarbon, such as the familiar methane or marsh gas, ordinary chemical actions at high temperatures and pressures are able to make synthetic petroleum. Dr. Lind found that the alpha rays of radium, which are speeding hearts of helium atoms, can also change simple hydrocarbons into highly complicated ones. Even electrical discharges produce the same effect.
EROS, UNLIKE LARGE PLANETS, HAS ELLIPTICAL OUTLINE
Eros, the tiny planet that recently paid a visit to the near neighborhood of the earth, has been seen as a solid object for the first time. Hitherto it has been visible only as a minute pinpoint of light, without any measurable diameter. But two astronomers at Union Observatory, Johannesburg, South Africa, have turned the powerful instruments there on the asteroid, now so far south that Northern Hemisphere observers can no longer see it very clearly, and they have been able to see that the asteroid is not a spheroid, like the larger planets, but it is an ellipsoid, considerably longer in one diameter than in the other.