No, Saturn hasn't suddenly developed a mild case of acne. But on February 24, the Hubble Space Telescope did capture a rare portrait of Saturn as four of its moons simultaneously passed in front of the ringed planet.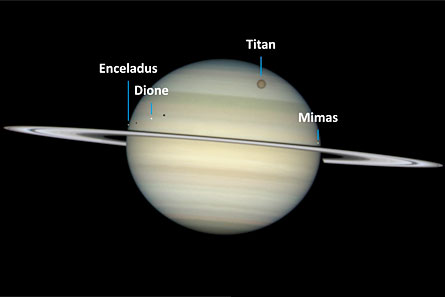 Science News headlines, in your inbox
Headlines and summaries of the latest Science News articles, delivered to your email inbox every Thursday.
Thank you for signing up!
There was a problem signing you up.
From a distance of 1.25 billion kilometers, Hubble's Wide Field Planetary Camera 2 recorded the passage of the four moons — giant Titan, Mimas, Dione and Enceladus.
These rare transits happen only when Saturn's ring plane is nearly edge on as seen from Earth. Saturn's rings will be perfectly edge on to our line of sight on August 10 and September 4, but the planet will lie too close to the sun to be seen then by terrestrial observers.
During the last ring plane crossing, in 1995 and 1996, Hubble also recorded several Saturnian moon transits and helped find several previously unknown moons.
A very different kind of transit — the passage of extrasolar planets in front of their parent stars — has proven invaluable in discerning the atmosphere and composition of these alien orbs. Some 40 transiting exoplanets are now known.
NASA released the new image of Saturn on March 17.