Ancient whale tells tale of when baleen whales had teeth
36-million-year-old fossil belonged to oldest discovered member of group that includes humpbacks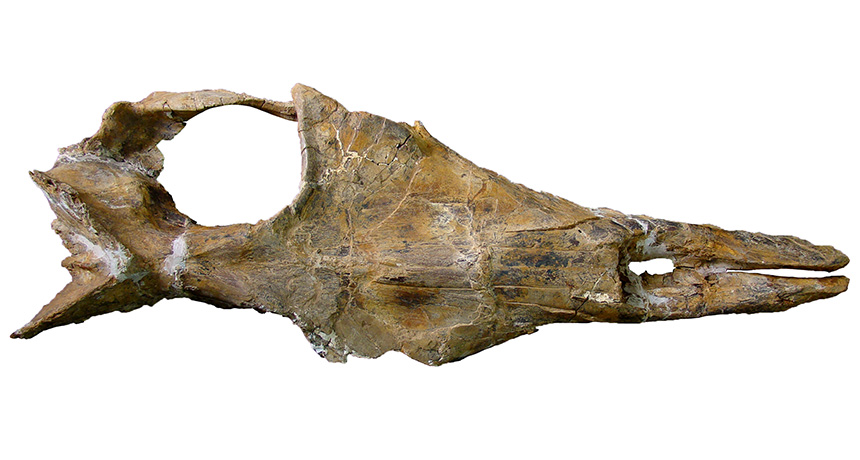 A 36-million-year-old fossil skeleton is revealing a critical moment in the history of baleen whales: what happened when the ancestors of these modern-day filter feeders first began to distinguish themselves from their toothy, predatory predecessors. The fossil is the oldest known mysticete, a group that includes baleen whales, such as humpbacks, researchers report in the May 22 Current Biology.
Scientists have made predictions about what the first mysticetes might have looked like, but until now, haven't had much fossil evidence to back up those ideas, says Nicholas Pyenson, a paleobiologist at the Smithsonian National Museum of Natural History in Washington, D.C. "Here, we have something we've been waiting for: a really old baleen whale ancestor."
The earliest whales were predators with sharp teeth — a legacy carried on by today's orcas, dolphins and other toothed whales. But at some point during whale history, the ancestors of modern mysticetes replaced teeth with baleen, fibrous plates that filter out small bits of food from seawater like a giant sieve. Such a huge lifestyle change didn't happen overnight, though. And the new find, dubbed Mystacodon selenensis, shows the start of that transition, its discoverers say.
Mystacodon largely fits in well with what scientists have predicted from analyzing other whales, says Mark Uhen, a paleobiologist at George Mason University in Fairfax, Va. "It fleshes out this transition, rather than being something wacky and crazy we never thought of."
Mystacodon was unearthed in a Peruvian desert by a team of European and Peruvian scientists. Like other early mysticetes, this one still had teeth — its name means "toothed mysticete." The creature was probably close to 4 meters long, estimates study coauthor Olivier Lambert, a paleontologist at the Royal Belgian Institute of Natural Sciences in Brussels. That's about the size of a pilot whale, and far smaller than today's leviathan humpbacks.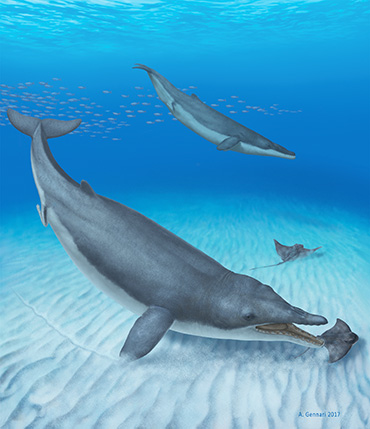 The whale holds onto some features of primitive whales, Lambert says. For instance, it still had a bit of a protruding hip bone, suggesting the presence of tiny hind legs left over from when whales' ancestors were four-legged, terrestrial creatures. "At this transition, scientists thought that this hind limb would be more or less gone," Lambert says. But the new find suggests that completely losing those limbs took a little longer than previously believed. And the process probably happened independently in toothed whales, instead of one time in the common ancestor of baleen and toothed whales.
But Mystacodon also shows some more modern features. Its snout was flattened, just like in modern mysticetes. In the earliest whales, the joints in the front flippers — essentially elbows — could still be flexed, a relic of when those flippers were legs. Modern whales can't move those joints, and neither could Mystacodon.
Subscribe to Science News
Get great science journalism, from the most trusted source, delivered to your doorstep.
"This is the first indication of a locked elbow — the final step of the transition of the forelimbs into flippers," Lambert says.
Wear patterns on Mystacodon's teeth suggest that the whale was a suction feeder — vacuuming up its prey instead of chomping it. That could have been a step toward the filter-feeding strategies used by today's baleen whales, Lambert suggests. (Other early mysticetes show similar wear, also suggesting suction-feeding tendencies.)
But the connection between suction feeding and filter feeding isn't well-established, Pyenson says. Mysticetes didn't become true filter feeders until millions of years later, he says. And scientists still don't know what series of changes in the ocean environment and in mysticetes' bodies led to the transformation. "I don't think suction feeding alone is the primary step."
Lambert and his colleagues will be looking for more ancient whales to further flesh out the story of early mysticetes. The region where the skeleton was found — the Pisco Basin on the southern coast of Peru — is a hot spot for evidence of ancient whales and dolphins that was overlooked for many years, Lambert says. "There is huge potential for the area where we excavated."