Colorful pinwheel puts a new spin on mouse pregnancy
Award-winning image shows how the immune system influences placental development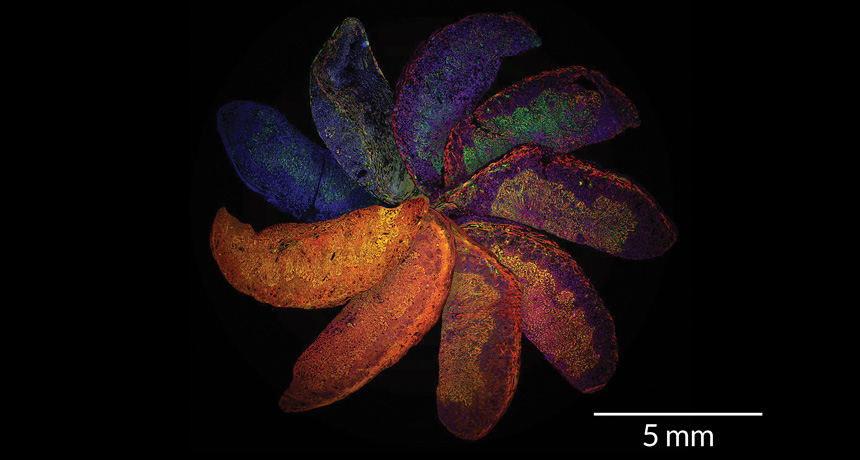 View slideshow of other winners
This rainbow pinwheel of mouse placentas isn't just an eye-catching, award-winning image. The differences in color also provide researchers with new clues to how a mother's immune system may affect her or her baby's health during pregnancy. The work could lead to earlier diagnosis and treatment of preeclampsia, a common pregnancy complication. 
Suchita Nadkarni, an immunologist at Queen Mary University of London, used a technique called confocal microscopy to snap individual photos of nine mouse placentas. Arranging the images in a circle is "a really powerful way of seeing what's going on in the placenta," she says.
The image is one of the winners of the 2017 Wellcome Image Awards, an annual contest for scientific and medical images.
The circular arrangement shows how neutrophils, a type of white blood cell, affect placental development, Nadkarni says. The first five placentas (clockwise from top) are from mice with intact neutrophils, while the next four are from mice that had the white blood cells removed.
Neutrophils interact with T cells to promote blood vessel formation. Around the edges of the unaltered placentas, blood vessels (red) are prominent. The placentas from mothers that lacked neutrophils, however, haven't properly developed blood vessels or other internal structures. Cell nuclei (blue) and specialized placenta cells called trophoblasts (green) are also shown.
If placental blood vessels don't develop normally, the embryo may not get enough nutrients or oxygen. In people, abnormal neutrophils have been connected to preeclampsia. Seeing these colorized structures, Nadkarni says, can help researchers tease out the role that neutrophils play in placental development, which could lead to better diagnostic tools for preeclampsia.
---
Seeing science
These scientific snapshots were also winners of the 2017 Wellcome Image Awards.