After four days of scientific challenges that included designing a zero-energy house and responding to a fictional outbreak of an infectious disease, five students from across the country won top prizes in the Society for Science & the Public's national science competition for middle school students. The winners of the 2008 SSP Middle School Program were announced at an evening awards banquet in Washington, D.C. on October 21.

The students were selected from over 75,000 students who entered local, SSP-affiliated science fairs across the country in 2007 and 2008. From this pool, over 1,900 students submitted written entries and were narrowed down in early September to 300 semifinalists, representing 42 states and Puerto Rico. Thirty finalists were then chosen, based on their science projects, for an all-expense paid trip to Washington, D.C. There the students were judged on their individual interviews with judges and participation in several scientific challenges. The criteria for winning included scientific knowledge and ability to comprehend new concepts; scientific and analytic thinking; and the students' teamwork, leadership and communication skills, as demonstrated while working with peers on five different science experiments.
 
Christopher Sauer, 13, of Portola Valley, Calif. won first place, a $20,000 scholarship. He was selected as a finalist based on a team project that involved building a magnetohydrodynamic drive, a simple engine that uses electric and magnetic fields to thrust seawater out of a chamber, which propels the vehicle forward.

Taking home second place, a $5,000 scholarship, was Katherine Glockner, 14, of Encinitas, Calif. Katherine won a finalist spot for her project investigating how the smoke from the 2007 San Diego County fires affected lung function in area grade schoolers.

Brittany Wenger, 13, of Bradenton, Fla., came in third place, winning a $2,500 scholarship. She was selected as a finalist based on her project that explored neural technology by creating a soccer-playing computer program that "learned" as it played.

Winning fourth place — a Vernier LabQuest and $150 in gift cards — was Luke Andraka, 13, of Crownsville, Md. Luke won a spot among the finalists for his project that investigated lessening acid mine drainage in a stream using different sizes of limestone gravel.  

Elizabeth Karron, 12, of Whitefish Bay, Wis., won fifth place, a $500 gift card to Barnes & Noble. For the project that won her a spot among the finalists, Elizabeth explored how excessive nutrients affected the growth of two different species of aquatic plants.

Elizabeth Marincola, President of Society for Science & the Public, which owns and administers the program and publishes Science News, said, "Every year, SSP has the great privilege of engaging with the brightest young minds in the country. We are very proud of Christopher Sauer, Katherine Glockner and Brittany Wenger — and all of the SSP Middle School Program finalists — for their accomplishments, and more importantly, for their commitment to this critical field of study. Engaging the public in science and science education has been our mandate since our founding in 1921, and we are confident that these students will help accelerate our mission to inform, educate and inspire."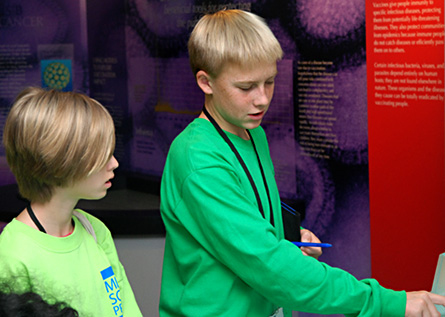 Elmer's sponsored this year's program.