Painted lady butterflies' migration may take them across the Sahara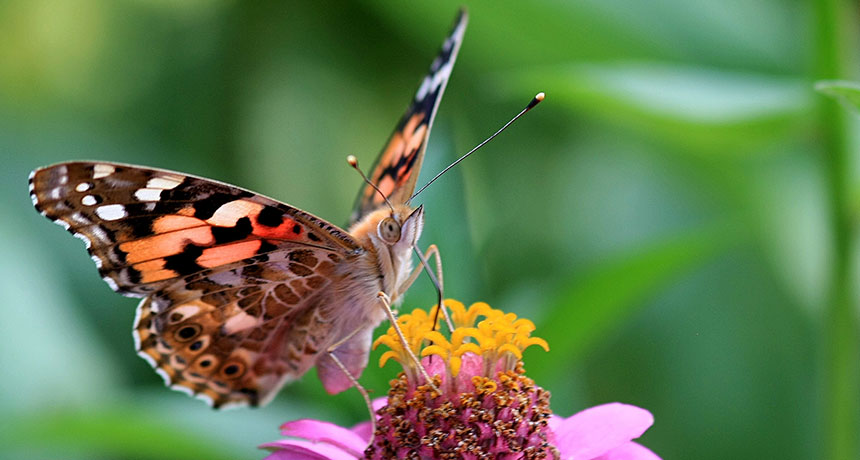 Butterflies look so delicate as they flitter from flower to flower. And yet, they are capable of migrating incredibly long distances. The monarch, for example, migrates between Canada and Mexico, covering distances of up to 4,800 kilometers, riding a combination of columns of rising air, called thermals, and air currents to travel around 80 to 160 kilometers per day.
No single monarch makes this entire journey, though. The round trip is done by a succession of as many as five generations of butterflies. But now scientists have found that there's a species of butterfly that may rival the monarch's migratory record — the painted lady (Vanessa cardui).
Painted ladies are found throughout much of the world, except for South America and Australia. They've been seen as far north as Svalbard, Norway, and nearly as far south as Antarctica. The butterflies are known to migrate, particularly between Europe and Africa, but their route has been largely unknown. Scientists had tracked the butterflies to northern Africa (the region known as the Maghreb), but there have been hints that they may fly across the Sahara. Two new studies back up this claim.
Gerard Talavera and Roger Vila of Harvard University visited four sub-Saharan nations — Benin, Chad, Ethiopia and Senegal — in 2014. They found butterflies moving south through Chad. There were dense aggregations of breeding butterflies in Benin and Ethiopia. And as the dry season approached in Senegal, the pair found butterflies old and worn, as if they had just finished a long, tortuous journey. Plus, the timing of these appearances coincided with the butterflies' fall and winter disappearance from Europe.
"Taken together, the results of our fieldwork provide evidence suggesting that most European populations may undertake long-range migratory flights to tropical Africa, thus crossing the combined hazards of the Mediterranean Sea and the completely hostile Sahara," the pair write September 21 in the Biological Journal of the Linnean Society.
If butterflies truly are making that flight, they could be traveling more than 4,000 kilometers in a single generation — a potential record for a migratory insect, the researchers note. And while this seems nearly impossible, it may not be. A previous study found that with favorable winds, painted butterflies could travel as fast as 45 kilometers per hour. At that speed, it would take them as little as four days to make it from Central Europe to Central Africa. Since an adult painted butterfly lives for around four weeks, such a journey is feasible, Talavera and Vila argue.
But this evidence is only circumstantial; it doesn't prove that butterflies are truly making that journey. So while Tavalera and Vila were in sub-Saharan Africa, they collected hundreds of adult painted ladies and larvae. Some of these were used in a second study, published October 4 in Biology Letters and led by Constantí Stefanescu of the Natural History Museum of Granollers in Spain. In this study, the team analyzed the isotopes of hydrogen found in the adult butterflies' wings.
The hydrogen in the water that falls as precipitation can come in different isotopes, or forms, that vary in the number of neutrons. The ratio of these isotopes varies geographically. And the ratio present wherever the butterflies lived as larvae correlates with that later found in the adults' wings. So researchers can tell where the adults were born.
Stefanescu and his team analyzed butterflies collected in seven European and seven African countries and developed a rough map of where the adults were moving. Those in sub-Saharan Africa had indeed started in Europe. But those in the Maghreb came from both sub-Saharan Africa and Europe.
What explains all this movement? The butterflies are following a combination of prevailing winds and favorable conditions for breeding. As rains come and go, the butterflies breed and move on. And while crossing the Sahara may seem like quite a way to go just for some rainy days and lush vegetation, painted lady butterflies are hardly the only creatures willing to go that far, Stefanescu and his colleagues note. There are plenty of other insects that make such a journey — as well as billions of birds.