From the April 6, 1935, issue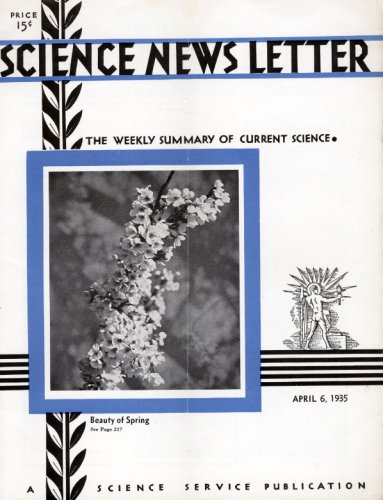 FAMOUS CHERRY BLOSSOMS EARLY THIS SPRING
Washington's famous Japanese cherry blossoms reflected the coaxing warmth and moisture of mid-March by blossoming a full 2 weeks earlier than usual. They were opening up rapidly on Friday, March 29, and by Sunday, the last day of the month, were in full glory. As a rule, they do not reach their climax until about mid-April.
Penalty was exacted, however, for their precocity. Just as the trees had assumed the appearance of enormous fluffy snowballs, a stinging cold rainstorm swept over the city.
Science News headlines, in your inbox
Headlines and summaries of the latest Science News articles, delivered to your email inbox every Thursday.
Thank you for signing up!
There was a problem signing you up.
Some consolation, however, is to be expected, for this first burst of bloom, the single whites, is to be followed at short intervals by several other varieties of Japanese cherries, double whites and pinks, declared by some devotees to be even lovelier than the first flowers.
Subscribe to Science News
Get great science journalism, from the most trusted source, delivered to your doorstep.
GASEOUS NEBULAE MAY BE GHOSTS OF EXPLODED STARS
Are the great, misty nebulae seen by astronomers the ghost shrouds of some prehistoric star that exploded as did now-famous Nova Herculis just before last Christmas? Scientists are asking themselves that question.
Dr. Gustaf Strömberg of Mt. Wilson Observatory, in a summary of exploding stars written for the Carnegie Institution of Washington, points out one case, at least, that links the appearance of nova stars with the great nebulae so prevalent in the heavens. Dr. Strömberg says:
"In the sky there are certain objects whose appearance and spectra are similar to those of the later stages of a nova. It is quite possible that all of these bodies have gone through a nova stage.
"A peculiar case is that of the so-called Crab nebula in the constellation Taurus. By comparing photographs taken from time to time, we have found that the nebula is gradually expanding. By calculating the time required to reach its present dimensions at a uniform rate, we find that the hot gas must have left the star's surface about 900 years ago.
"In the records there is only one account of a nova star in that part of the sky in which the Crab nebula is located, Chinese astronomers saw a nova there in the year 1054!"
RAISE POT LID, FIND DINNER LEFT ON STOVE 6,O00 YEARS
Raising a cooking-pot lid, archaeologists exploring the oldest city yet discovered in the world have found meat bones still in the pot, says a report just received from Tepe Gawra, Mesopotamia, by the University Museum in Philadelphia.
This uneaten dinner, left in the oven for 6,000 years, reveals how sudden was the downfall of Tepe Gawra's twelfth city, the oldest yet probed. A heavy layer of ashes and charred refuse shows that the city was burned, probably by its enemies.