Gay, lesbian and bisexual high schoolers report 'tragically high' suicide risk
Adolescents considered sexual minorities are more vulnerable to suicidal behaviors than their heterosexual peers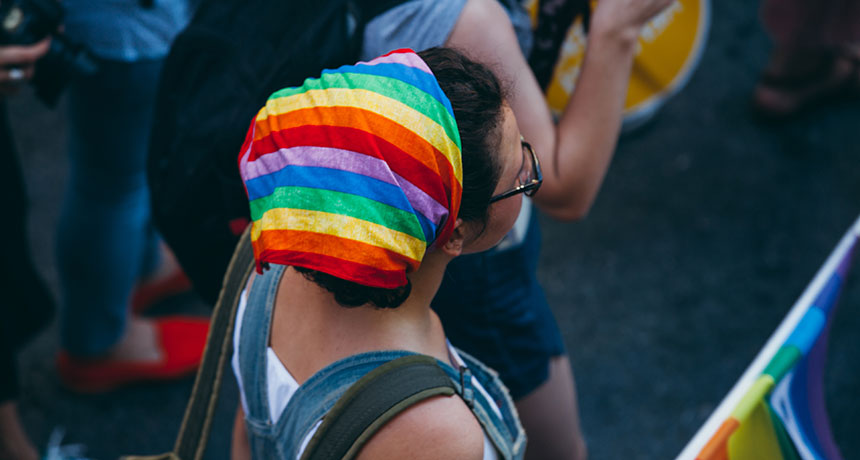 High school students who identify as gay, lesbian or bisexual are more likely to report planning or attempting suicide compared with their heterosexual peers, a new study finds.
In a nationwide survey in 2015, 40 percent of adolescents who identified as one of these sexual minorities or said they were unsure of their orientation reported seriously considering suicide. Thirty-five percent reported planning suicide, and 25 percent reported attempting suicide. That's compared with 15 percent, 12 percent and 6 percent, respectively, for heterosexual high schoolers, researchers report in the Dec. 19 JAMA.
The risk of suicidal behavior among sexual minority youth is "tragically high," says Anna Mueller, a sociologist at the University of Chicago, who was not involved in the study.
The results come more than 15 years after the first study to provide nationwide evidence of the elevated risk of suicidal behavior in sexual minority youth. The new research uses the 2015 National Youth Risk Behavior Survey, which queried public and private high school students in every state and Washington, D.C. More than 15,500 teens responded. About 89 percent of participants reported they were heterosexual. Two percent identified as gay or lesbian, 6 percent as bisexual, and 3 percent reported they were not sure. The survey did not include transgender as a response option.
Sexual minority youth often struggle with mental health problems because of social stigma and harassment, Mueller says (SN Online: 3/1/17). Difficulties can be overt — as when teens are bullied by peers or rejected by family members — or subtle, she says. "Just fearing how their family or friends may react to their sexual orientation can isolate youth and profoundly harm their mental health."
Like any kids, sexual minority youth "need to feel safe, accepted and supported," Mueller says. "Only when we provide them with a climate that does that will we begin to see suicidality drop off in this vulnerable population."