How to get Ötzi's look
Iceman's garb included bearskin hat, patchwork pants made from goat, sheep hides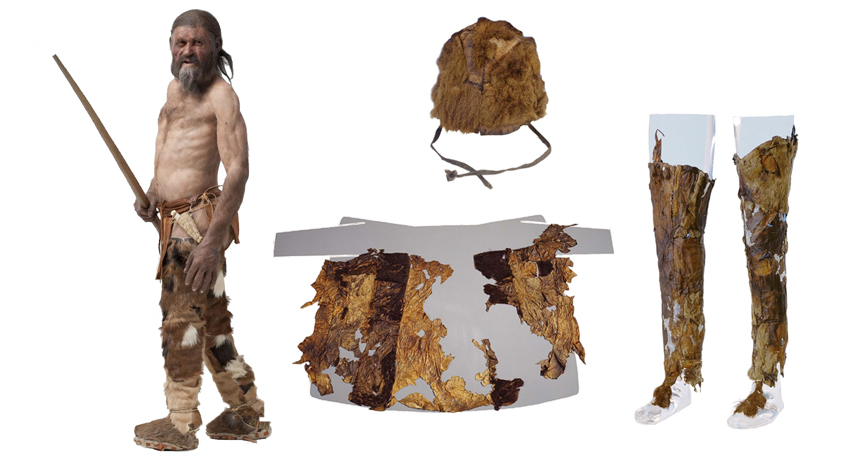 Ötzi had Copper Age style.
The 5,300-year-old Tyrolean Iceman, whose body was found poking out of a glacier in the Italian Alps in 1991, incorporated hides from at least five domesticated and wild animal species into his apparel, a new genetic study finds. Comparing mitochondrial DNA extracted from nine ancient leather fragments with DNA of living animals revealed the makeup of Ötzi's clothes and a key accessory, says a team led by paleogeneticist Niall O'Sullivan. Mitochondrial DNA typically gets passed from mothers to their offspring.
Little is known about what people wore during Ötzi's time. The findings provide a glimpse into how ancient European populations exploited domesticated animals to make clothes and other items.
Ötzi's coat consisted of hides from at least three goats and one sheep, the scientists report August 18 in Scientific Reports. This garment may have been periodically patched with leather from whatever animals were available, the team suggests.
Goats also provided skin for the Iceman's leggings, the new analysis indicates.
A sheepskin loincloth and a shoelace derived from European cattle round out Ötzi's attire made from domesticated animals.
As for wild animals, Ötzi wore a brown-bear cap and toted a quiver made from roe deer. It's impossible to know if the ancient man attached any special meaning to brown bears, "but he may have been an opportunistic hunter or a scavenger," says O'Sullivan, of University College Dublin and EURAC Research in Bolzano, Italy.
A 2012 analysis of proteins from fur samples taken from Ötzi's clothing identified sheep and a goatlike animal called a chamois as sources for the Iceman's coat. A team led by biochemist Klaus Hollemeyer of Saarland University in Saarbrücken, Germany, also pegged goats and dogs or wolves as sources of skin for Ötzi's leggings.
Disparities between Hollemeyer's and O'Sullivan's studies may stem from the two groups having sampled different parts of patchwork garments. In addition, the new report used advanced techniques for extracting and analyzing ancient DNA. That enabled O'Sullivan's team to retrieve six complete mitochondrial genomes from Ötzi's leather belongings.
O'Sullivan's investigation "opens a new field of potential identification procedures for mammalian species in ancient leathers and furs," Hollemeyer says.
A roughly 4,200-year-old legging found in the Swiss Alps in 2004 also features goat hide. Mitochondrial DNA extracted from that garment came from an ancient line of European goats that has largely been replaced by a genetically distinct goat population, a team led by archaeologist Angela Schlumbaum of the University of Basel in Switzerland reported in 2010.
The Swiss legging was found with pieces of bows and arrows, woolen clothes and many other artifacts where an ice patch in a mountain pass had partly melted. No human bodies have been found there.
"Possibly, goat leather was most comfortable" as legging material, says University of Bern archaeologist Albert Hafner, a coauthor of the Swiss legging study. "Modern leather trousers often use goat as well."