From the January 3, 1931, issue
STRANGE SEA FLOWERS BLOSSOM ON REEF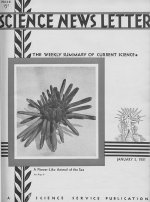 Long ago some observant writer remarked that in the sea, many of the plants look like animals and many of the animals, like plants. Support for this view can easily be found in the strange sea urchin pictured on the cover of this issue of the SCIENCE NEWS LETTER. It grows on the Great Barrier Reef off the coast of Australia; the photograph of this specimen was supplied by Melbourne Ward, an Australian zoologist who has done much work in the naturalists' paradise of the antipodes. The species is known locally as the "slate pencil sea urchin" because its thick spines are frequently used as natural slate pencils. More learnedly, it rejoices in the technical name of Heterocentrotus mammalatus.
Science News headlines, in your inbox
Headlines and summaries of the latest Science News articles, delivered to your email inbox every Thursday.
Thank you for signing up!
There was a problem signing you up.
UNIVERSE NOT RUNNING DOWN, IS LATEST HOPE OF SCIENCE
Hope that the universe is not running down and will not ultimately have the fate of a "heat death," with extinction of all its activity, was offered by Dr. Robert A. Millikan, chairman of the Executive Council, California Institute of Technology and Nobel prize physicist, who delivered the principal address of the American Association for the Advancement of Science at Cleveland, as its retiring president.
After presenting his experimental evidence that the penetrating cosmic radiations are the signals coming to Earth telling of the formation out of hydrogen of helium, oxygen, silicon, iron, and other common elements in the intensely cold regions in the depths of interstellar space, Dr. Millikan suggested that "it may be that hydrogen is somehow being replenished there, too, from the only form of energy that we know to be all the time leaking out from the stars to interstellar space, namely, radiant energy."
Subscribe to Science News
Get great science journalism, from the most trusted source, delivered to your doorstep.
This formation of the fundamental building block of all matter, the hydrogen atom, out of light and heat, is not a new idea. It has been advanced speculatively in the past, as Dr. Millikan said, "to allow the Creator to be continually on His job."
SUN SPOTS MAY BE DUE TO TIDAL EFFECT OF PLANETS
Just as the sun and moon produce tides on Earth, so does the gravitational attraction of the planets produce tides in the sun. These tides, in turn, are responsible for sun spots, in the opinion of Dr. Dinsmore Alter, professor of astronomy at the University of Kansas. Speaking in Cleveland before the astronomical section of the American Association for the Advancement of Science, Dr. Alter announced that he had secured a very close correlation between the computed numbers of sun spots and those actually observed. The chance of accidentally obtaining such a close correspondence between theory and fact is about 1 in 30,000, he declared.