From the July 20, 1935, issue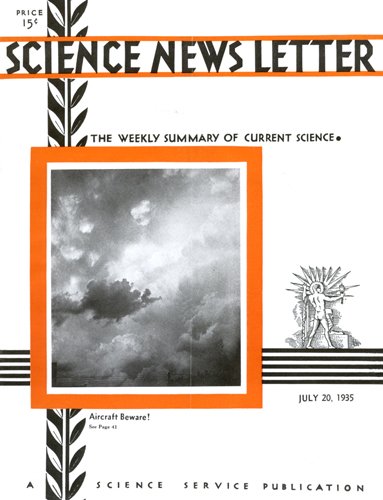 BOILING CLOUDS WARN OF "BAD SPOTS" FOR AIRCRAFT
Clouds as a rule are matters of no great concern to airmen; if they cannot climb over them or fly under, they depend on radio from ground stations to help them fly it blind. But when a pilot sees a "mess o' cauliflower" cooking on the horizon, he seeks a way around. For these billowing masses of black-and-white, which blossom on hot summer afternoons just before a thundershower, show by the rapid piling up of their tops where the dangerous vertical air currents are that can toss an airplane like a leaf or break a Zeppelin in two like a hollow sack.
Science News headlines, in your inbox
Headlines and summaries of the latest Science News articles, delivered to your email inbox every Thursday.
Thank you for signing up!
There was a problem signing you up.
The photograph on the front cover, showing a typically turbulent sky over the prairie region, was taken by Cornelia Clarke.
Subscribe to Science News
Get great science journalism, from the most trusted source, delivered to your doorstep.
CANCER PATIENTS MAY SOON BENEFIT FROM ATOM SMASHING
Medicine, including the treatment of cancer, and other sciences may soon be able to benefit from useful quantities of many elements made artificially radioactive. The technique for producing such elements is rapidly developing, as is instanced by their production by a combination of neutron bombardment and paraffin bath, which acts as a neutron reflector and has raised the yield by 20 to 100 times.
This statement is made by Prof. Enrico Fermi, noted Italian physicist and discoverer of the unknown element numbered 93, who is lecturing at the summer physics symposium at the University of Michigan.
INAUDIBLE SOUND WAVES SPEED GROWTH OF POTATOES
Potatoes have been stimulated into earlier sprouting and blossoming, and larger tuber yields at maturity, by treating the seed pieces with "supersonic" waves—sound waves of such high frequency that they are far beyond the range of audibility.
The experiments were performed at the high-frequency laboratory of the State X-Ray Institute in Moscow. The waves were produced by an electrically excited quartz crystal, operating in an oil bath, at a frequency stated to be about 400 million cycles a second. The uppermost limit of audible sound waves is only about 20,000 cycles a second.