From the June 1, 1935, issue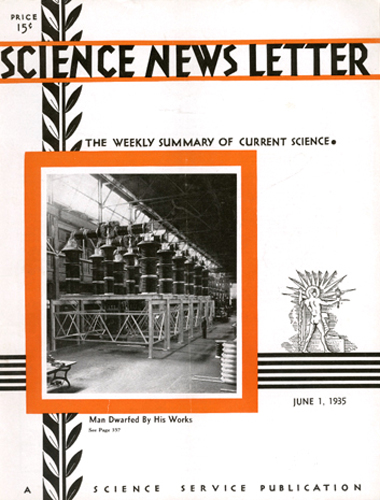 LOS ANGELES TRANSMISSION LINE HAS FAST BREAKERS
Along the 287,500-volt, 270-mile transmission line from Boulder Dam to Los Angeles will be placed eight circuit breakers, each incorporating three single-pole units. Seven of the single poles are shown in the illustration on the front cover of this week's Science News Letter. Notice how small the man appears beside them.
The breakers will operate at a higher voltage than any others commercially installed; they are rated to interrupt the circuit in slightly more than one-third the time of the fastest breakers heretofore available for high voltages; and they will require less than 5 percent as much oil as would usual breakers for such voltage—1,000 instead of 23,000 gallons.
Science News headlines, in your inbox
Headlines and summaries of the latest Science News articles, delivered to your email inbox every Thursday.
Thank you for signing up!
There was a problem signing you up.
BAY OF FUNDY'S RECORD TIDES TO BE HARNESSED BY FIVE DAMS
Subscribe to Science News
Get great science journalism, from the most trusted source, delivered to your doorstep.
Five great dams, totaling more than 14,000 feet in length, will be needed to utilize the world's record-high tides of the Bay of Fundy to create electric power from the sea, Army engineers explained in discussing the new "Quoddy" project at Eastport, Maine, for which Congress has just appropriated $10 million for initial operations.
The tentative figure for the final cost of the project is $37 million, which, it is hoped, will be completed in about 2-and-one-half years.
The five dams, which will keep back the waters of Cobscook Bay as the giant Fundy tides sweep up Passamaquoddy Bay into Cobscook, will vary in height from 35 to 140 feet. About 40 square miles of water—twice the area of Manhattan Island—will be stored in Cobscook Bay. All five dams will be well within the international boundary, thus making the entire Quoddy project an American undertaking.
SARGASSO SEA REALLY EXISTS DESPITE MYTHICAL TALES
Sargasso Sea tales, about lost ships stuck forever in a thick expanse of floating weed, are myths pure and simple. But the Sargasso Sea itself really exists. Fact was separated from fable in an address given by Dr. Anselm Keefe, professor of biology at St. Norbert College, speaking under the auspices of Science Service.
The Sargasso Sea owes its existence, Dr. Keefe said, to a tremendous eddy formed by currents circling the whole North Atlantic Ocean. It is an area of relatively still water, greater than the whole Mississippi valley, larger than Alaska, and almost as large as Australia.
The mass of floating weed in the Sargasso Sea belongs to the botanical genus Sargassum. The Sargassum weed is well known on the shores of the ocean, where it grows attached to the rocky bottom. To what extent the floating midocean masses are recruited from the shore growths, and how much they replace themselves by their own growth, Dr. Keefe said, are still matters of debate among botanists.