Malaysia's pig-tail macaques eat rats, head first
The primates had been known to eat fruits, insects and even dirt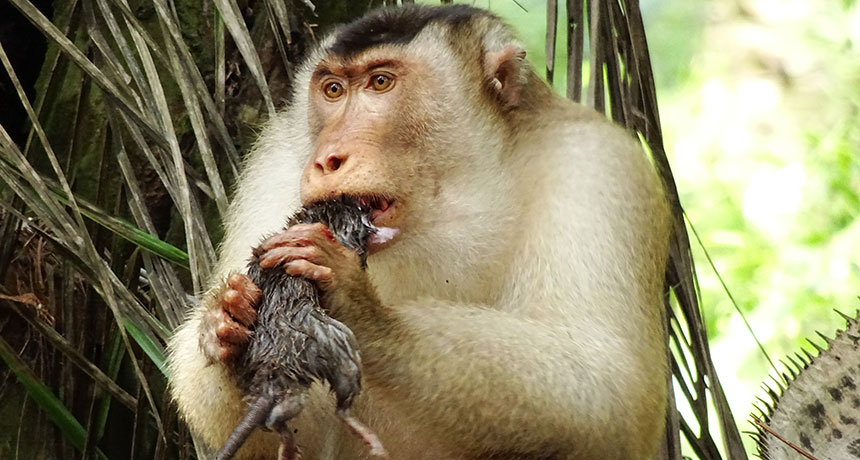 Behavioral ecologist Anna Holzner recalls first seeing a southern pig-tail macaque munching on a headless rat. These monkeys were known to eat fruits, insects and even dirt, but nobody had reported them eating rats. "It was funny," says Holzner, "and disgusting."
This unexpected act occurred dozens of times from March to August 2016 as Holzner, of the University of Leipzig in Germany, and colleagues recorded what the macaques ate on oil palm plantations in northwest Peninsular Malaysia. To planters there, the macaques are pests.
Holzner did the work as part of the Macaca Nemestrina Project led by primate ecologist Nadine Ruppert of Universiti Sains Malaysia, in Penang. She presented the results on July 2 at the annual meeting of the Association of Tropical Biology and Conservation in Kuching, Malaysia.
While pig-tail macaques, Macaca nemestrina, spend most of their time in the forest, they visit adjacent plantations daily to forage, report Ruppert, Holzner and others in a related study in the April 4 International Journal of Primatology.
Holzner's new study shows that in the plantations, pig-tail macaques ate mostly oil palm fruits, spending only 1 percent of their meal times on rats. But the monkeys would peel open the bark on oil palm trunks to expose rats hiding within. The researchers estimate that a group of 30 macaques might eat as many as 2,080 rats in a year. Holzner's team counted fewer rats wherever they located macaques.
The study has local plantation owners reconsidering the monkeys, which may not be pests after all, but agents of rat control, Holzner says. But as macaques adapt to the encroaching plantations and their numbers grow, they can reduce birds and other creatures living in adjacent forests, warns ecologist Matthew Luskin at the Nanyang Technological University in Singapore.