From the May 30, 1936, issue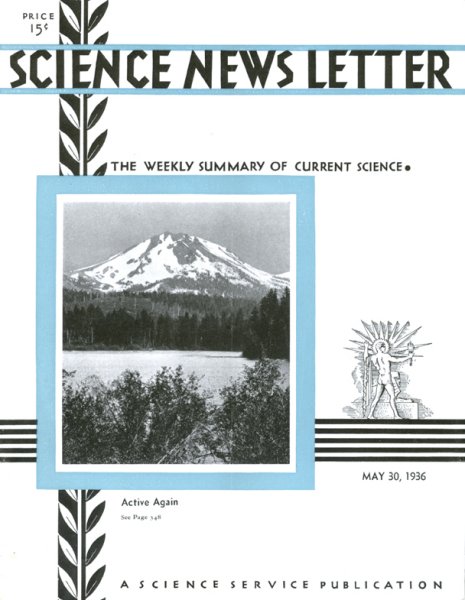 124 EARTH TREMORS IN 10 DAYS AT MT. LASSEN
Mount Lassen, America's one "live" volcano, continues to show signs of activity, word received by the U.S. National Park Service indicates. During the first 10 days after the new steam jets began to spurt from its slopes, 124 distinct earth tremors were felt, and recorded themselves on the seismographs maintained at headquarters in Mount Lassen National Park.
The view of Mount Lassen that appears on the front cover of this week's Science News Letter was taken for the National Park Service by B.F. Loomis.
Science News headlines, in your inbox
Headlines and summaries of the latest Science News articles, delivered to your email inbox every Thursday.
Thank you for signing up!
There was a problem signing you up.
WARMTH NECESSARY FOR WORKING OF BODY'S BLOOD FACTORY
Subscribe to Science News
Get great science journalism, from the most trusted source, delivered to your doorstep.
Discovery of a hitherto unknown but fundamental relation between temperature and blood formation was announced at the meeting of the American Medical Association in Kansas City.
The discovery, which may give physicians new leads to the treatment of infections and blood diseases, was made by a group of Chicago surgeons, Drs. Charles B. Huggins, W.J. Noonan, and B.H. Blocksom, of the University of Chicago.
This blood factory of the adult body is located in the marrow of certain bones.
This factory cannot operate at low temperatures, it appears from the experiments reported by Dr. Huggins and associates. No blood is made in the marrow of the bones of the hands, feet, and lower part of the arms and legs because it is too cold there.
No application of the discovery to disease or its treatment is made by the Chicago surgeons, who are at present content to have found an answer to the question of why the marrow in some bones is the red, blood-forming variety while the marrow of other bones is yellow and forms no blood.
Certain practical aspects suggest themselves, however. New knowledge about the mechanism of blood formation may well be expected to prove helpful in finding the causes and better methods of treating blood diseases.
DEVELOPS RAY RECEIVER FOR SIGNALING WITH INVISIBLE RAYS
A rugged, simple signaling device with which a mere Army private could communicate on invisible rays, a possible mechanism for detecting the presence of enemy ships off a fog-bound coast, and a highly sensitive apparatus for use in atomic research are among the potentialities of a new receiver of radiation invented by Dr. Hammond Vinton Hayes, veteran electrical scientist of Boston, who was formerly chief engineer of the American Telephone and Telegraph Company.
Dr. Hayes, made cautious by a lifetime of experimental research, makes none of these claims for his new invention with the exception of the possibility of the signaling. But the implications of the discovery are clear.