Nostalgic Voyager documentary relives first exploration of the solar system
The first spacecraft to visit the outer planets launched 40 years ago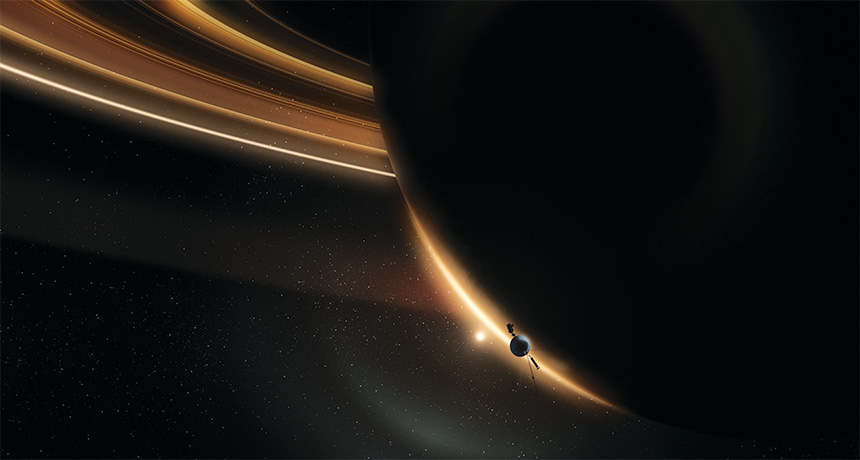 A species gets only one chance to explore its solar system for the first time.
For humans, that chance began 40 years ago this month, when the twin Voyager spacecraft embarked on their "grand tour" of the solar system. A new PBS documentary airing on August 23, The Farthest: Voyager in Space, chronicles their journey to send home the first close-ups of the giant planets and to bring a message about life on Earth to the stars.
Voyagers' launch dates took advantage of a rare planetary alignment. In 1977, the giant planets — Jupiter, Saturn, Uranus and Neptune — lined up in such a way that a spacecraft could swing past all four in less than 15 years, stealing some gravitational oomph from each world as it went.
That lucky alignment happens only once every 176 years. When NASA's administrator went to President Richard Nixon to ask for funding for Voyager, he allegedly said: "The last time the planets were lined up like that, President Jefferson was sitting at your desk. And he blew it."
The Voyagers almost blew it, too. The first craft (Voyager 2, confusingly) launched on August 20, 1977. It experienced so much shaking that its onboard computer — which had as much computing power as a modern car key fob — thought it was failing and put itself in safe mode.
Airs August 23
PBS | Tangled Bank Studios
Subscribe to Science News
Get great science journalism, from the most trusted source, delivered to your doorstep.
Engineers got it back on track and fixed the problem for Voyager 1's launch. Then that spacecraft's rocket had a fuel leak during launch. The craft was within 3½ seconds of running out of gas before it accelerated enough to reach Jupiter.
These nail-biters are mostly told through personal, entertaining anecdotes from Voyager team members. Historical footage from press conferences and newscasts grounds the story in its era. Everyone has big '70s computers and big '70s hair. Cuts from shots of the scientists today to their younger selves emphasize how much time has passed. It's strange that such a high-tech and ambitious mission seems so vintage.
Even the Voyager footage of Jupiter and Saturn coming into view for the first time has a home video quality, especially compared with the sharp, colorful images that spacecraft send back from these planets today. Watching the footage felt like watching video of my parents' wedding: I recognize everyone, but they look so different.
But the sense of awe that the Voyager images sparked is palpable. At the time, every picture was the best planetary picture ever taken. Much of what is known about the outer solar system now — Jupiter's moon Io has volcanoes, Europa has an ocean, Neptune has a great churning hurricane that never stops — was glimpsed for the first time with Voyager.
The Voyager spacecraft are still out there, and one may have already left the solar system (SN: 8/23/14, p. 6). Good thing because both craft carry a message in a bottle: the Golden Record.
The Golden Record was a literal record to be played on a phonograph by any aliens that might encounter the spacecraft. The package included a needle, a speaker and graphical instructions on how to play the record. A listener would hear a two-hour sampling of sounds from Earth, including babies crying, whales singing, chimps screeching, trains, thunderstorms, Beethoven, Chuck Berry, greetings in 55 languages and astronomer Carl Sagan's son saying, "Hello from the children of planet Earth."
The Farthest weaves the story of exploration with the story of the making of the record. The record's producers and champions recount how they pulled the whole thing together in just six weeks. What to leave in — a map to Earth, in case the aliens want to visit — and what to leave out — full frontal nudity — was fiercely debated.
At times, refrains of "Wow!" and "It was a first" feel repetitive. Some of the stock footage and spacecraft animations are a little cheesy. But The Farthest is a tender tribute, tinged with nostalgia and existential awe. For those like me, who weren't alive or aware when the first pictures of Jupiter came back, The Farthest offers a sense of what we missed.
---
Editor's note: One of The Farthest's executive producers, Sean B. Carroll, is a member of the Board of Trustees of Society for Science & the Public, which publishes Science News.