The committee charged with reviewing NASA's human spaceflight program concludes that the Ares 1 rocket being developed to take astronauts into space after the space shuttle is retired is the wrong vehicle for the job.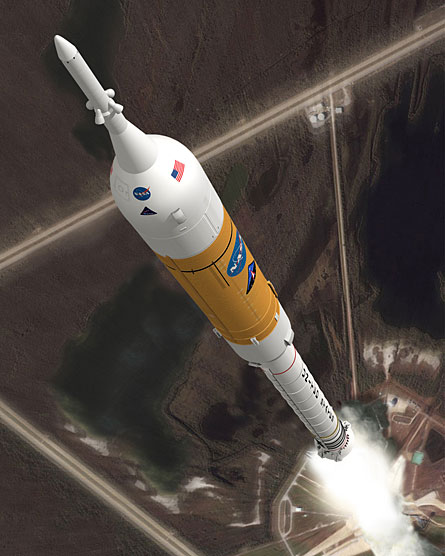 That's because the rocket is more sophisticated than what is needed to ferry crew from Earth to orbit. Also, given the current budget, it is too costly for something that would serve as a "trucking service to low Earth-orbit," said committee chairman Norman Augustine October 22.

Augustine made his remarks during a press briefing in which the committee unveiled its final report. The White House charged the independent panel with reviewing the U.S. human space flight program because the space shuttle is set to retire next year. (The White House released the panel's summary report on September 8.)
At the briefing, Augustine, retired chairman and CEO of the Lockheed Martin Corp., reiterated the committee's basic finding — that without an extra $30 billion in funding over the next 10 years, a plan to return astronauts to the moon by 2020 and then send them on to Mars won't be possible.
But the final report also details the pros and cons of several different options to reach those goals, assuming the extra $30 billion is provided. The Ares 1 rocket, which would launch a new Orion crew vehicle also under development, probably won't be ready until 2017 at the earliest. That delay would not only create a seven-year gap before a U.S. craft could send astronauts into space again, but would also mean that the rocket could do little to service the International Space Station, even if the station's lifetime is extended until 2020, noted panel member Edward Crawley of MIT.
The central question, Crawley said, is not whether the Ares 1 can be built, "but if it should be built." Other options suggested by the panel would include contracting commercial firms to transport both cargo and humans into low-Earth orbit. Instead of spending extra money to develop its own transport, NASA might be better off investing in technologies that would extend human exploration to Mars and beyond, Augustine said.
However, in a press statement released just after the briefing, House Space and Aeronautics Subcommittee Chairwoman Gabrielle Giffords (D-Ariz.) disagreed. She noted that the Ares 1-Orion program is in good shape and that "we are not prepared to have our astronauts' access to space held hostage to purchases of seats from nonexistent commercial providers."
The panel also said that NASA's administrator should be given broad powers to tailor NASA's workforce — adding or laying off people as needed, depending upon the workload. In the past, Augustine said, the White House and Congress have not allowed NASA to freely expand or contract its workforce as needed.