Scientists find way to break through bad bacteria's defenses
Enzymes used to build protective biofilms can also destroy them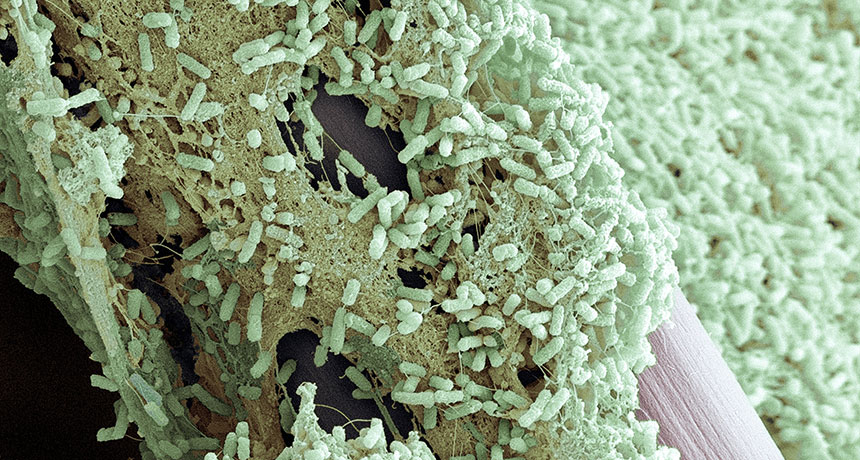 What builds up can also tear down, a new study of bacteria suggests.  
Bacteria build biofilms, communities of the microorganisms encased in a protective goo that shields the microbes from antibiotics and immune system attacks. But the very enzymes bacteria use to construct that shield can also destroy some of its molecules and strip away the protection, researchers report May 20 in Science Advances.
"We're weaponizing the bacteria against themselves," says P. Lynne Howell, a structural microbiologist at the Hospital for Sick Children in Toronto. Howell and colleagues studied Pseudomonas aeruginosa bacteria, which can cause pneumonia and other infections and is particularly problematic for people with the lung disease cystic fibrosis.
The researchers discovered that two enzymes, PelAh and PslGh, which the bacteria use to build two different sugar polymers, can degrade those same polymers. That delete function, supplied by parts of the enzymes known as glycoside hydrolase domains, normally helps correct mistakes or prevents buildup of the sugar chains inside bacterial cells, Howell says.
In laboratory tests, synthetic versions of the glycoside hydrolase domains applied to P. aeruginosa cultures stopped the bacteria from forming new biofilms and melted existing ones. Stripping away sugar polymers did not kill the bacteria but did make them more vulnerable to antibiotics and immune cells. Human lung cells grown in dishes containing the enzymes suffered no harm, suggesting the enzymes wouldn't damage human tissues.
Animal tests are needed to determine whether the enzymes are safe and can fight biofilm infections in the body, Howell says. Similar enzymes from other bacteria and fungi may also fight biofilm infections caused by those organisms, she says.
Editor's Note: This story was updated June 7, 2016, to provide the full names of the enzymes.