From the August 22, 1931, issue
THE GIRL ON THE COVER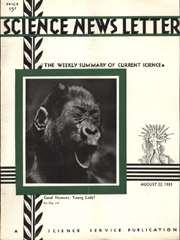 Her name is Janet Penserosa. She is about four years old and her home is at the New York Zoological Park. And now she can claim the distinction of being the first female gorilla to survive in Gothams animal center. Not only that, but she is probably the only gorilla that has stayed out of doors during the day for an entire year in the North Temperate zone. Her attendant let her play in the snow, and she liked it.
FLEAS ARE CONVICTED OF CARRYING TYPHUS GERMS
Fleas, long suspected of transmitting endemic typhus fever in the United States, have at last been convicted of the offense by conclusive evidence, the U.S. Public Health Service has just reported. The proof that rat fleas are a transmitting agent for the disease was obtained by laboratory tests.
TERTIARY AGE SUGARS PROVE FRESH ENOUGH TO SUPPORT LIFE
From astronomy to zoology
Subscribe to Science News to satisfy your omnivorous appetite for universal knowledge.
Sugar that has been aged in amber for scores of thousands–possibly hundreds of thousands–of years and is yet fresh enough to supply food to living plants has been studied in Berlin by Prof. Johannes Gruss, well-known German researcher on the evolution of yeasts and fungi.
The microscopic traces of sugar were always found in connection with insects that had been trapped in the amber while it was still oozing from the pines on the ancient Baltic shores, as a soft, sticky resin. Buried in the silt, the resin slowly fossilized into amber, preserving insects, bits of flowers, and chemical substances caught in its airtight substance.