From the June 6, 1931, issue
LARGEST WIND TUNNEL AND TOWING CHANNEL FINISHED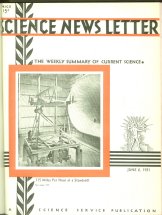 Aeronautic research took a stride forward when two outstanding pieces of apparatus for testing and improving aircraft–both the largest of their kind in the world–were officially put in operation last week by the National Advisory Committee for Aeronautics at its Langley Memorial Aeronautical Laboratory in Langley Field, Va.
One is a wind tunnel big enough to hold full-sized airplanes between its yawning jaws. The other is a seaplane towing channel nearly half a mile long through which a model of a boat hull can be pulled as fast as a mile a minute.
Science News headlines, in your inbox
Headlines and summaries of the latest Science News articles, delivered to your email inbox every Thursday.
Thank you for signing up!
There was a problem signing you up.
Greater safety while flying and improvements to all forms of aircraft may be expected from experiments and tests that will be conducted with these two new tools of research.
The wind tunnel makes it possible to send a continuous stream of air past full-sized planes at a speed of 115 miles per hour. The jaws, or openings from which the air comes, are 30 feet high and 60 feet wide. The air is driven by two huge propellers out of one jaw, across an open space where the airplane being tested is rigged up and into the other jaw, whence it is sucked into the propellers and sent around the same course again.
Subscribe to Science News
Get great science journalism, from the most trusted source, delivered to your doorstep.
RESEARCH SHOWS DIET IS NOT RESPONSIBLE FOR CANCER
Diet is not responsible for the development of cancer, it appears from experiments reported by Sir Leonard Hill to the British medical publication, Lancet. Sir Leonard described his studies of mice on different diets and different beddings, which he conducted in the National Institute for Medical Research.
Cancers have occurred indifferently in mice on all diets and on all beddings, he reported. The significant influence has been age.
The mice were kept on five different diets as follows: an approximately natural diet for wild mice, consisting of barley, oats, wheat, and fresh green food; a canteen-lunch diet of cooked meat, vegetables with the usual amount of common salt, pudding, and canned fruit; a canteen-tea diet poor in vitamins, consisting of white bread, margarine, rock cakes, and biscuits; a diet found to be the average one of Essex farm laborers, low in protein value; and the same diet of which a third had been browned by frying, in order to see whether cancer-producing products were produced in food by such burning. Some of the stocks of mice were fasted 2 days each week to determine whether abstinence had any effect on cancer production.
HUNDRED-PERCENT-EFFICIENT LIGHT PRODUCED IN LABORATORY
An electric lamp converting current into light completely without producing heat has been operated in a laboratory experiment by Dr. M. Pirani, director of the Society for the Study of Electric Lighting at Berlin. The new tube is not suitable, however, for domestic or industrial lighting.
The invention of a light that would avoid wasting 80 to 90 percent of the current as heat has been the goal of physicists and engineers for years. Dr. Piranis new light, however, is actually heated by a furnace on the outside.
The tube is a modification of the gas-discharge tubes used by neon lights in advertising and recently brought to a 30 percent efficiency by Dr. Pirani. He now finds that if the losses due to the higher temperature of the discharge tube are taken care of by a separate source of energy, a completely heatless conversion of electricity into light energy is obtained. The current is carried by sodium vapor at low pressure and is bright yellow in color. The discovery is only of theoretical value now.