From the May 12, 1934, issue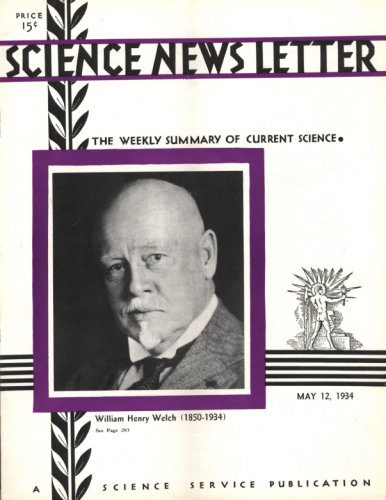 DEAN OF AMERICAN MEDICINE DEFINED "NEW PUBLIC HEALTH"
Before his death in his 85th year on April 30, Dr. William H. Welch recorded phonographically at the request of Science Service an evaluation of the great crusade for a healthier nation, a campaign that he led so effectively. His words have added meaning as the nation mourns him.
We owe primarily to the antituberculosis crusade the development of "the new public health," characterized especially by efforts to educate the people in matters of public and personal hygiene . . .
Science News headlines, in your inbox
Headlines and summaries of the latest Science News articles, delivered to your email inbox every Thursday.
Thank you for signing up!
There was a problem signing you up.
It is evident that a crusade directed in the first instance against a single disease, without losing sight of its immediate goal, has assumed in recent years the proportions of a general health movement and this not merely on the negative or preventive side, but even more on the positive side of improvement of the health and increase of the vitality of the whole community.
These newer directions of public and individual health, started by the antituberculosis campaign, have been reinforced and greatly expanded by similar popular movements organized to promote maternity, infant and child hygiene, social hygiene, mental hygiene, the control of cancer, the prevention, and relief of heart disease, and the end of like beneficent movements is not yet in sight.
Subscribe to Science News
Get great science journalism, from the most trusted source, delivered to your doorstep.
Among the great lessons taught by these recent health movements is the necessity of securing by popular education the cooperation of all the forces of society, both governmental and voluntary, in support of efforts of health departments and of the medical profession to prevent disease and to improve health.
NEW THYMUS-GLAND EXTRACT SPEEDS SEX AND GROWTH
Once the most mysterious part of the body, the thymus gland, which is closest to the heart of any of the endocrine organs, is now proved surprisingly to develop sexual precocity and speed up growth,
Practical applications to animals, perhaps even man, are foreseen because of an acceleration of the effects that occur as succeeding rat generations are given thymus-extract injections. For instance, the future might see cattle raised in half the usual time.
Dr. Leonard G. Rowntree, formerly of the Mayo Clinic, and since 1932 director of the Philadelphia Institute for Medical Research, uncovered this hidden effect of the thymus. He followed a lead given by Adolph M. Hanson, a Faribault, Minn., physician who in time snatched from a busy practice made an extract of the thymus gland and reported that it seemed to lower blood pressure in the animals with which he worked, Dr. Rowntree was investigating this effect in rats when he discovered sexual and growth effects.
TRIPLE-WEIGHT HYDROGEN MADE FROM DEUTERIUM ATOMS
Direct proof of the synthesis of matter has been brought to light by the discovery of a new, heavy heavy-hydrogen atom of mass three. The discovery resulted from experiments conducted by Drs. Gaylord P. Harnwell, Henry D. Smyth and Walker Bleakney, W. Wallace Lozier, P.T. Smith, S.N. VanVoorhis, and J.B.H. Kuper, of the Princeton University department of physics.
Through these experiments there have been found minute traces of this very heavy variety of hydrogen of mass three in a sample of almost pure hydrogen of mass two supplied by Prof. Hugh Taylor of the department of chemistry. The scientists were able to do this by using a mass-spectrograph of very high sensitivity recently constructed in the Palmer Physical Laboratory at Princeton by Drs. Bleakney, Lozier, and P.T. Smith. This apparatus is capable of detecting one part of hydrogen of mass three in a million of mass two and, in the sample analyzed, actually recorded one part in 200,000.