From the May 2, 1936, issue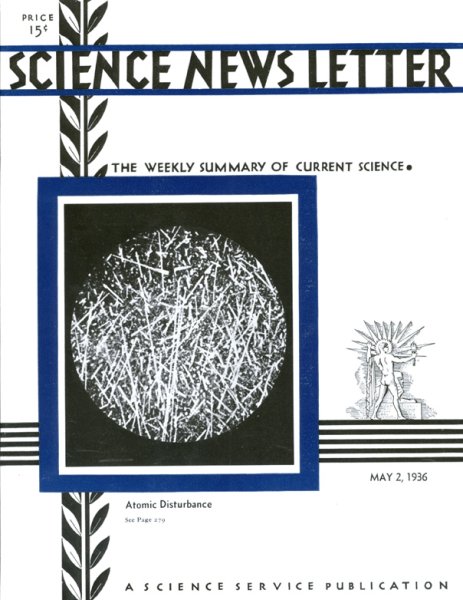 11 MILLION-VOLT BULLETS FOR USE IN ATTACKING ATOMS
The production of 11 million-volt energy atomic bullets for use in attacking other atoms was announced by Prof. Ernest O. Lawrence, University of California physicist, at the meeting of the National Academy of Sciences in Washington, D.C.
This is the greatest man-controlled energy that science has had at its command for use in its study of the problem of the constitution of matter.
Already young Prof. Lawrence has transmuted or blown to pieces most of the atoms known to man, using the cyclotron, or giant merry-go-round machine gun, which he invented.
Science News headlines, in your inbox
Headlines and summaries of the latest Science News articles, delivered to your email inbox every Thursday.
Thank you for signing up!
There was a problem signing you up.
To the academicians he also told how he had devised a successful means of bringing beams of high-powered atomic bullets into the clear for purposes of bombarding matter.
The production of the new, high-energy bullets was made possible by substituting the nuclei of helium gas atoms for the hydrogen or heavy hydrogen formerly used. On theoretical grounds it was believed that these helium nuclei would function in the whirligig machine gun, and that because of their mass and double charge they should come out of the apparatus with double the energy previously attained with lighter, less electrically active bullets.
Subscribe to Science News
Get great science journalism, from the most trusted source, delivered to your doorstep.
POWERFUL EXPLOSIVE MADE FROM CORNSTARCH BY-PRODUCT
An explosive more powerful than nitroglycerine can be made from the corn-product wastes of the nation, it was revealed by Prof. Edward Bartow, president of the American Chemical Society, in an interview at the society's meeting.
No mere dream is the new explosive and blasting agent, which outdoes dynamite in potency. Power companies are already investigating the new material, and if the costs can be lowered America will not only find its corn a valuable industrial commodity in the explosives field but a line of defense in time of war.
Basic material of the new explosive is a sugarlike substance, inositol, made from the waste "steep" waters in which corn is soaked as a step in the manufacture of cornstarch. Inositol, said Prof. Bartow, can be converted into an explosive known as hexanitroinositol, containing six nitrogen atoms. Nitroglycerine is technically known by the chemical name of trinitroglycerine and has three nitrogen atoms.
The explosive hexanitroinositol, Prof. Bartow pointed out, has advantages over nitroglycerine because it is a solid compound instead of a liquid and can thus be used directly as a blasting agent, like dynamite. Its explosive properties are essentially the same as those of nitroglycerine.
SOLAR SYSTEM UNSTABLE AFTER GREAT LAPSES OF TIME
The solar system, idealized, was looked upon with the eyes of a mathematician, Prof. George D. Birkhoff of Harvard, who told members of the National Academy of Sciences that "ultimate instability is highly probable." He reassured his listeners, however, with the statement that "this instability would only arise after enormous lapses of time."
Applied to the solar system in which we live, this would mean that even if the sun does not hit another star or burn itself out, it and its family of planets will probably fly asunder in the remote future.
Prof. Birkhoff is not concerned with the real solar system, however, but with the problem of "the general formally stable motion of a dynamic system" which he concludes in the general case must be that of actual instability.