From the November 6, 1937, issue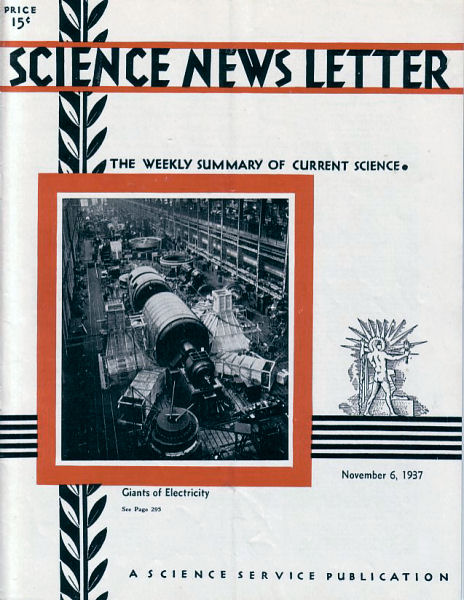 ELECTRICAL GIANTS TESTED IN QUARTER-MILE BUILDING
Giant generators, each producing enough electricity to light the lamps in a million homes, are shown undergoing tests at the Westinghouse East Pittsburgh plant in the illustration on the front cover of this week's Science News Letter.
Further down the quarter-mile aisle are other motors and generators taking form.
Subscribe to Science News
Get great science journalism, from the most trusted source, delivered to your doorstep.
SCIENCE HAS A MYSTERY IN STELLAR SPECTRAL LINES
Scientists at Mt. Wilson Observatory are seeking the solution of the mystery surrounding six yet-unidentified spectral lines that can, in no way, be associated with any arrangement of atoms or molecules known on Earth. The scientific "fingerprints" of the culprit have been taken in spectral plates of the observatory, but linking the owner of these fingerprints to known things in the universe is still unsolved.
Science News headlines, in your inbox
Headlines and summaries of the latest Science News articles, delivered to your email inbox every Thursday.
Thank you for signing up!
There was a problem signing you up.
Dr. Paul W. Merrill of the observatory staff reports to the American Physical Society that a possible suspect is dust in interstellar space, but admits it is yet no more than a suspicion. (Physical Review, October 1.)
The "third-degree" tactics suggested by Dr. Merrill to solve the puzzle and perhaps obtain a confession from the scientific suspect consist of experiments in which dust particles are chilled to temperatures hundreds of degrees below zero. Light will then be shone through this chilled dust and attempts made to obtain the same fingerprints already known. Similar spectral line fingerprints for the suspect and the stellar lines would be clear identification in quite the same way that a suspect may be linked to a murder by his own characteristic fingerprints.
ANCESTOR OF DINOSAURS EXHIBITED AT HARVARD
One of the world's oldest and oddest animals, the ship-lizard, is now on display in Harvard's Museum of Comparative Zoology. It lived in Texas some 225 million years ago and its fossil remains were discovered and collected from the famous Texas red-beds by Prof. Alfred S. Romer, L.I. Price, and R.V. Witter.
This ancient lizard, forerunner of the giant dinosaurs, gets its name from a sail-fin, 2 feet long, that runs along its backbone. It is about 8 feet long, half tail and half body, and its head is only half a foot long. Scientists call it Edaphosaurus.