From the November 9, 1935, issue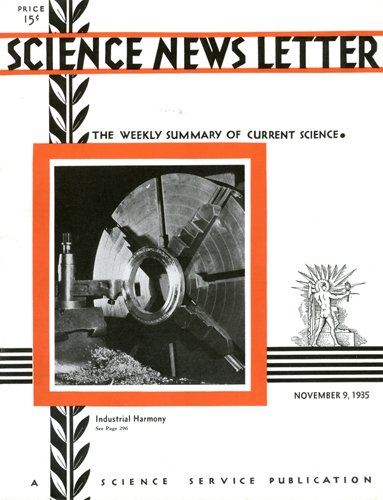 MECHANICS IS PORTRAYED IN PHOTOMURAL BY STUDENTS
The photographer has found beauty in a machine shop in the illustration shown on the front cover of this week's Science News Letter.
The photograph is part of a photomural made entirely, from negative to final panel, by members of the Experiments' Club of the DeWitt Clinton High School, New York City. This panel represents "Mechanics."
Subscribe to Science News
Get great science journalism, from the most trusted source, delivered to your doorstep.
CLOUD OF ISLAND UNIVERSES ADDED TO KNOWN SPACE
A dense cloud of island universes, each of them similar to our own Milky Way but so far out in space that they can be seen only with the most powerful telescopes, has been located near the southern constellation Horologium by Dr. Harlow Shapley, director of Harvard College Observatory.
Science News headlines, in your inbox
Headlines and summaries of the latest Science News articles, delivered to your email inbox every Thursday.
Thank you for signing up!
There was a problem signing you up.
Evidence of their existence first appeared in the largest existing catalogue of external galaxies tabulated during the past 5 years by Mrs. E.M. Lindsay of the Harvard astronomical staff. Almost all of the 7,889 galaxies in the Horologium area contained in the catalogue were previously unknown, and quite understandably so, since nearly all of them are fainter than the fifteenth magnitude.
From a survey of the long-exposure photographs taken with the powerful Bruce telescope at Harvard's southern observatory at Bloemfontein, South Africa, from which the catalogue was made, Dr. Shapley has estimated that the metagalactic cloud is populated about twice as densely as space in general. Several denser concentrations or clusters of galaxies within the cloud, he has estimated, are populated as much as three times as thickly as average space.
MOON'S TIDAL FORCE PROVIDES TRIGGER STARTING EARTHQUAKE
The earthquake that shook eastern United States and Canada early Friday morning, November 1, gave new evidence that the moon and earthquakes are connected.
Dr. Harlan T. Stetson, geophysics research associate at Harvard University, had just completed a study of more than 2,000 earthquakes when this new earthquake crashed through with new confirmation of his findings.
In Dr. Stetson's investigation, made for the American Philosophical Society, he found that the largest number of deep-focus earthquakes, those occurring more than 60 miles below the Earth's surface, occur with greatest frequency when the lunar tidal forces at the quake center are near a maximum.
Calculation of the possible influence of the moon upon Friday's shock, made by Dr. Stetson at the suggestion of Science Service, showed that the tidal force of the moon was at a maximum over New England at the time the quake occurred.