From the December 1, 1934, issue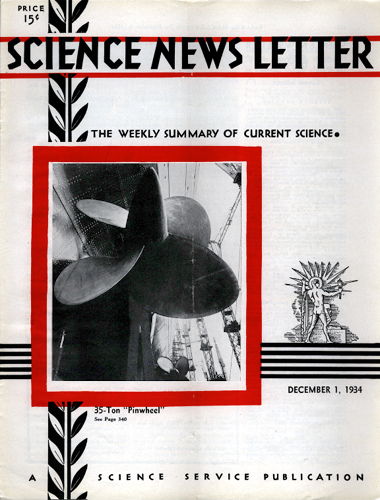 PROPELLERS OF "QUEEN MARY" MOVE AT TOUCH OF FINGER
The cover illustration of Science News Letter this week is the striking view of one of the four great propellers that will drive the new British Cunard-White Star liner Queen Mary.
While each propeller weighs 35 tons, they are balanced so delicately that the touch of a finger will move them.
The propellers are the largest manganese bronze units ever cast, weighing 55 tons apiece in the rough state. Eight weeks was required to construct each mold, and after the pouring it required two weeks for cooling.
Science News headlines, in your inbox
Headlines and summaries of the latest Science News articles, delivered to your email inbox every Thursday.
Thank you for signing up!
There was a problem signing you up.
NEW KIND OF NITROGEN FOUND; THEN TURNED INTO OXYGEN
Subscribe to Science News
Get great science journalism, from the most trusted source, delivered to your doorstep.
The discovery of a new variety of nitrogen that radioactively transmutes itself into oxygen was announced by Dr. William D. Harkins of the University of Chicago to the National Academy of Sciences.
Thus for the first time it is known that one of the two principal elements in air can change into the other, the oxygen necessary to our very breath.
HIGH BLOOD PRESSURE CAUSE OF THICKENING OF ARTERIES
High blood pressure brings on the dreaded thickening of the arteries that afflicts so many and takes such a death toll these days. It is not the other way around, as some medical investigators have believed. Dr. Alan R. Moritz of Western Reserve University has made this discovery in careful and laborious microscopic tests upon 72 individuals, half of whom came to the postmortem table with records of high blood pressure, heart damage, and kidney disease, while the other half had no such trouble.
To the National Academy of Sciences, Dr. Moritz explained that researches into the ultimate cause or causes of hypertension, as doctors call persistent high blood pressure, will be directed and executed with greater precision and hope of success if it is known that thickening of artery walls is the effect, and not the cause, of the high blood pressure. His view that high blood pressure is the horse and the artery condition the cart is supported by the fact that although thickening of the arterioles, or tiny arteries, was characteristic of the high-pressure group, it was not present in all individuals who were known to have had long-standing high blood pressure.