EPA moves to phase out asbestos goods
Everyday places where asbestos can still be found
Read the full article (PDF) | Vote on future topic | Search archives
February 1, 1986 | Vol. 129 | No. 5
EPA moves to phase out asbestos goods
The Environmental Protection Agency (EPA) last week proposed banning five widely used asbestos products, then phasing out over 10 years all mining, importation and remaining uses for the mineral. A known human carcinogen, asbestos is capable of causing lung cancer and mesothelioma (a cancer of the chest and abdominal lining). In announcing the proposal, EPA Administrator Lee M. Thomas said that enacting the law could ultimately prevent about 1,900 U.S. asbestos-related cancer deaths.
EPA only began investigating the hazards posed by some of the now-to-be-banned products after French researchers in 1982 pointed out that asbestos-impregnated floor tiles could, through normal wear, release "important" concentrations of the mineral into the air (SN: 7/10/82, p. 22). In addition to vinyl-asbestos floor tile, the new proposal would immediately ban asbestos-containing roofing felts, flooring felts and felt-backed sheet flooring, cement pipe and fittings, and clothing. These products account for an estimated 40 percent of the U.S. asbestos market.
The remaining products would have to be labeled as containing asbestos. EPA is also considering several alternatives for such products. One would ban all construction and clothing uses now, all friction (brake) products within five years and everything else within 10 years.
. . .
At issue is how quickly substitutes can be found for those products — such as asbestos brake linings — not immediately banned. — J. Raloff
UPDATE | February 25, 2012
Asbestos troubles not gone yet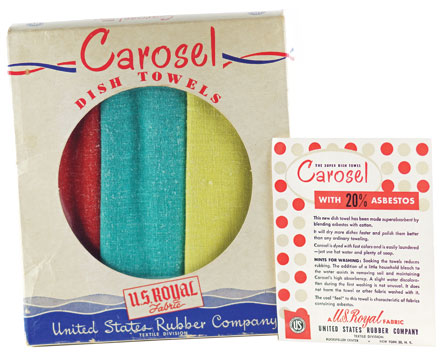 Science Service once distributed samples of asbestos-laden towels through its "Things of Science" program.
A science-history buff could easily fill a year's worth of From the Archive updates with stories of super materials and wonder drugs whose reputations went rotten following further scientific scrutiny. Asbestos deserves special note because of how long its effects will linger.
By the middle of the last century, this "magic mineral" had made its way into cars, boats, buildings and even ironing boards and dish towels (SN: 9/25/48, p. 204). Though scientists had known since the 1920s that asbestos dust is dangerous to factory workers, it wasn't until the '60s that the link to cancer was clearly established.
Subscribe to Science News
Get great science journalism, from the most trusted source, delivered to your doorstep.
The U.S. Occupational Safety and Health Administration instituted federal guidelines limiting workplace asbestos exposure in 1971. In 1989, the Environmental Protection Agency formally announced the ban or phase-out of most asbestos products, though much of the plan was declared legally void by the Fifth Circuit Court of Appeals two years later.
Today, asbestos is still found in fire doors, roofing materials and vinyl floor tile. And it remains in the lungs of many who inhaled it, taking up to half a century to deliver its damage. A 2009 report found that deaths from malignant mesothelioma, of which asbestos exposure is the primary cause, are not yet falling in the United States. Globally, the problem may be more serious: A recent study reports that asbestos-related deaths are likely to surge in Asia in the coming decades. —Elizabeth Quill
Credit: Anthony Rich