Even a tiny oil spill spells bad news for birds
Eating small amounts of the crude form left the animals lagging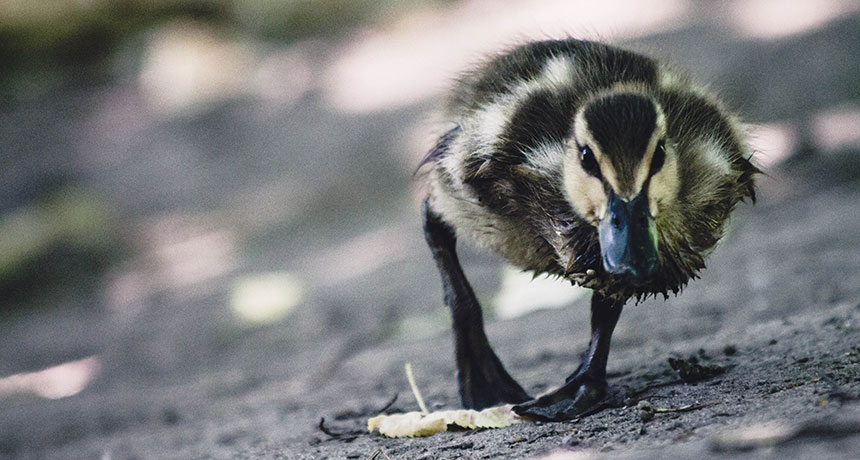 MINNEAPOLIS — Birds don't need to be drenched in crude oil to be harmed by spills and leaks.
Ingesting even small amounts of oil can interfere with the animals' normal behavior, researchers reported November 15 at the annual meeting of the Society of Environmental Toxicology and Chemistry North America. Birds can take in these smaller doses by preening slightly greasy feathers or eating contaminated food, for example.
Big oil spills, such as the 2010 Deepwater Horizon disaster, leave a trail of dead and visibly oily birds (SN: 4/18/15, p. 22). But incidents like last week's 5,000-barrel spill from the Keystone pipeline — and smaller spills that don't make national headlines — can also impact wildlife, even if they don't spur dramatic photos.
Science News headlines, in your inbox
Headlines and summaries of the latest Science News articles, delivered to your email inbox every Thursday.
Thank you for signing up!
There was a problem signing you up.
To test how oil snacks might affect birds, researchers fed zebra finches small amounts of crude oil or peanut oil for two weeks, then analyzed the birds' blood and behavior. Birds fed the crude oil were less active and spent less time preening their feathers than birds fed peanut oil, said study coauthor Christopher Goodchild, an ecotoxicologist at Oklahoma State University in Stillwater.
Oil-soaked birds will often preen excessively to try to remove the oil, sometimes at the expense of other important activities such as feeding. But in this case, the birds didn't have any crude oil on their feathers, so the decrease in preening is probably a sign they're not feeling well, the researchers say.
Exactly how the oil affects the birds' activity levels isn't clear. Researchers suspected that oil might deprive birds of oxygen by affecting hemoglobin, which carries oxygen in the blood. Blood tests didn't turn up any evidence of damaged hemoglobin proteins but did find some evidence that oil-sipping birds might be anemic, Goodchild said. At the higher of two crude oil doses, birds' blood contained less hemoglobin per red blood cell, a sign of anemia.
Subscribe to Science News
Get great science journalism, from the most trusted source, delivered to your doorstep.
The findings, while preliminary, add to a growing pile of evidence that estimates of the number of animals impacted by oil spills might be too low. For instance, even a light sheen of oil on sandpipers' wings makes it harder to fly, costing birds more energy, a different group of researchers reported earlier this year. That could affect everything from birds' daily movements to long-distance migration.