From the February 15, 1936, issue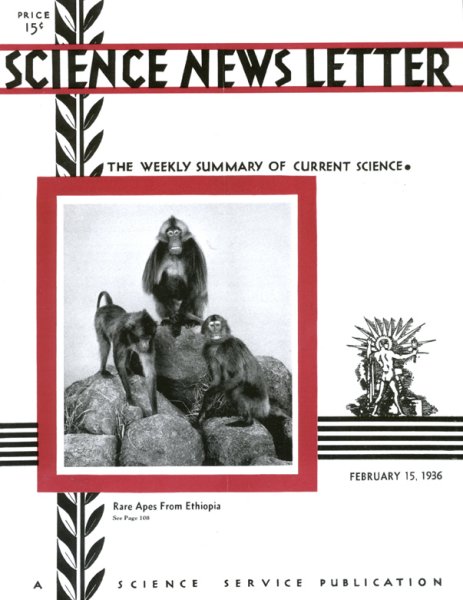 ONLY IN ETHIOPIA ARE FOUND GELADA BABOONS
The bizarre-looking apes pictured on the front cover of this week's Science News Letter have homes only in the mountainous parts of Ethiopia. They have no counterpart anywhere else in the world.
The cover photograph shows a new group of these rare apes recently placed on exhibition at the Field Museum of Natural History.
Subscribe to Science News
Get great science journalism, from the most trusted source, delivered to your doorstep.
TINY RADIO TRANSMITTER SENDS VOICE 4 MILES
Development of the world's smallest micro-wave transmitter for use in broadcast circuits has been announced by O.B. Hanson, chief engineer of the National Broadcasting Company.
Science News headlines, in your inbox
Headlines and summaries of the latest Science News articles, delivered to your email inbox every Thursday.
Thank you for signing up!
There was a problem signing you up.
Distances up to 4 miles were attained by the midget "radio station," which can be held in the palm of the hand, in exhaustive tests recently made of the first working model completed by NBC's research laboratory.
The new device is not intended for broadcasts direct to listeners' radio sets, but for actual program service at any point of origin, to extend the scope of pick-up for present radio networks.
NEW THEORY HOLDS LIGHT TO BE ELECTRIC RINGS OF FORCE
A new theory explaining the long-baffling problem of the apparent dual nature of light, which sometimes acts like a particle and at others like a wave motion, has just been reported by Sir Joseph Thomson. (Nature, Feb. 8)
Elderly Sir Joseph, who is known the world over as J.J. Thomson, was elected Fellow of the Royal Society as far back as 1884 and is now head master of Trinity College, Cambridge University. He was awarded the Nobel Prize in Physics in 1906.
A photon of light, according to the distinguished scientist, might well be regarded as a ring of electric force traveling at right angles to its plane. It would be like a ring slipping along a cane; the cane serving as the light ray. Sir Joseph now extends this picture of light to consider a photon of light as a series, or train, of such rings.
A quantum of light, he suggests further, would be a train of definite length of these electric rings of force that would be given out by an electron in falling between energy levels in an atom. A train of rings, Sir Joseph indicates, would make possible an explanation of the interference of light.