It's official: Termites are just cockroaches with a fancy social life
Reordering demotes one infamous insect group to being a mere branch of an equally infamous one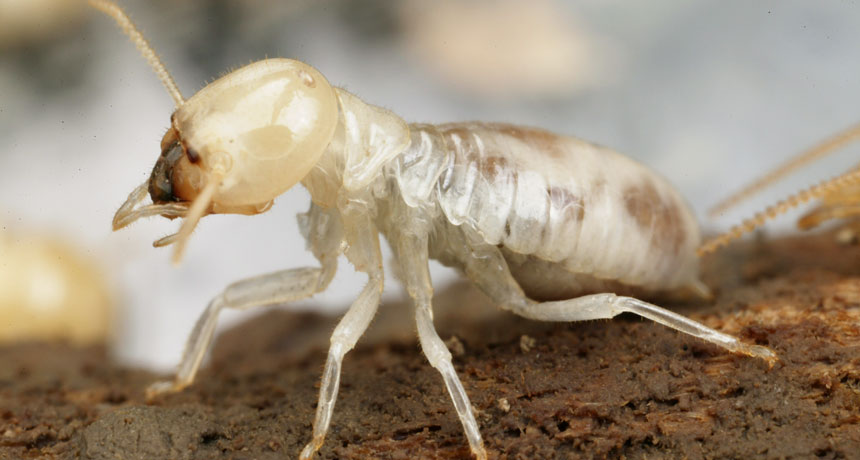 Termites are the new cockroach.
Literally. The Entomological Society of America is updating its master list of insect names to reflect decades of genetic and other evidence that termites belong in the cockroach order, called Blattodea.
As of February 15, "it's official … that termites no longer have their own order," says Mike Merchant of Texas A&M University in College Station, chair of the organization's common names committee. Now all termites on the list are being recategorized.
Science News headlines, in your inbox
Headlines and summaries of the latest Science News articles, delivered to your email inbox every Thursday.
Thank you for signing up!
There was a problem signing you up.
The demotion brings to mind Pluto getting kicked off the roster of planets, says termite biologist Paul Eggleton of the Natural History Museum in London. He does not, however, expect a galactic outpouring of heartbreak and protest over the termite downgrade. Among specialists, discussions of termites as a form of roaches go back at least to 1934, when researchers reported that several groups of microbes that digest wood in termite guts live in some wood-eating cockroaches too.
Once biologists figured out how to use DNA to work out genealogical relationships, evidence began to grow that termites had evolved as a branch on the many-limbed family tree of cockroaches. In 2007, Eggleton and two museum colleagues used genetic evidence from an unusually broad sampling of species to publish a new tree of these insects (SN: 5/19/07, p. 318). Titled "Death of an order," the study placed termites on the tree near a Cryptocercus cockroach.
Cryptocercus roaches live in almost termitelike style in the Appalachian Mountains, not too far from chemical ecologist and cockroach fan Coby Schal at North Carolina State University in Raleigh. Monogamous pairs of Cryptocercus roaches eat tunnels in wood and raise young there. The offspring feed on anal secretions from their parents, which provide both nutrition and starter doses of the wood-digesting gut microbes that will eventually let the youngsters eat their way into homes of their own.
Subscribe to Science News
Get great science journalism, from the most trusted source, delivered to your doorstep.
Termites are "nothing but social cockroaches," Schal says. Various roaches have some form of social life, but termites go to extremes. They're eusocial, with just a few individuals in colonies doing all of the reproducing. In extreme examples, Macrotermes colonies can grow to 3 million individuals with only one queen and one king.
After several years of debate, the common names committee of the American entomologists' organization voted it was time to switch to the new view of termites. At a February meeting of the society board, there was no objection.  The common names of individual termite species, of course, will remain as something-something "termite."
Considering whether to demote a whole order of insects is an uncommon problem, says Whitney Cranshaw of Colorado State University in Fort Collins, a longtime member of the society's naming committee. "Probably some of us, including myself, didn't want to make the change because we liked it the way it was," he says. Termites and cockroaches as separate orders were easy to memorize for the undergraduates he teaches.  Yet, he voted yes. "It's what's right."