Readers ponder differences in polio vaccines and more
Your comments and questions on the September 14, 2019 issue of Science News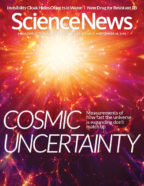 Vaccine varieties
Polio is close to being eradicated worldwide, but the virus still circulates in Afghanistan and Pakistan, Tina Hesman Saey reported (SN: 9/14/19, p. 4) in an update to a 1969 story, "Polio could come back" (SN: 9/13/69, p. 206).
In African countries, one source of polio cases are vaccines made with viral strains that rarely can become disease-causing, Saey reported. Reader Mike Bushroe wondered why those vaccines are used.
"It's a complicated issue," says Oliver Rosenbauer, spokesman for the Global Polio Eradication Initiative in Geneva. There are two types of polio vaccines — oral vaccines and the inactivated vaccine, which is given as a shot.
Oral vaccines contain weakened viral strains and offer two benefits: They can spark a person's immune system to make a memory of the virus without the person getting sick, and the weakened strains can spread to people close by, passively immunizing them, Rosenbauer says. Oral vaccines are safe, effective, provide long-lasting protection and are inexpensive and easy to give, he says. But in the rare instance when too few people in a community are vaccinated, weakened strains circulating in the population can, over the course of about a year, pick up genetic changes to become disease-causing.
The other polio vaccine is made with inactivated viral strains and cannot cause polio. But this vaccine protects only people who get the shots; it doesn't offer passive immunity to others close by. "In areas where polio is circulating, you need the oral vaccine to stop it," Rosenbauer says.
Countries that have eradicated polio, including the United States, used oral vaccines to stop widespread transmission, then switched to the inactivated vaccine. The World Health Organization recommends this strategy for countries that are still fighting the disease.
Don't rock the boat
A structure designed to redirect waves around an object in a fluid might some day help prevent cargo ships from rocking too wildly in harbors, Emily Conover reported in "New cloaking devices could hide objects from water waves and currents" (SN: 9/14/19, p. 12). On Facebook, reader Nour Kassar noted another potential benefit: "Bye–bye motion sickness."
Unwrapped
The Sept. 14, 2019 issue arrived in mailboxes wrapped in plastic.
Subscribers complained about the delivery. "Plastic? Really? With everything that is known about plastic pollution and its impacts, much of it reported in Science News, I was astonished to see my issue arrive packaged in this way!" reader Lynn Lozier wrote.
We delivered the issue in a plastic wrapper to accommodate a special offer from one of our advertisers, says Kathlene Collins, chief marketing officer for Society for Science & the Public, which publishes Science News. "We will not be wrapping any future issues for subscribers in plastic," she says. "Thanks to our readers for the candid feedback."
Correction
The credit for a photo of a Western meadowlark shown in "We've lost 3 billion birds since 1970 in North America" (SN: 10/12/19 & 10/26/19, p. 7) misspelled the photographer's name as well as Macaulay. It should read Matthew Pendleton/Macaulay Library/Cornell Lab of Ornithology.