Intel Science Talent Search finalists show off their work
Young investigators do real research in bedrooms and garages
I can remember only two science projects from my teenage years. One was a tennis ball launcher made of rubber tubing and plywood. The other was a bottle rocket with a cardboard nose. I think my dad built both of them.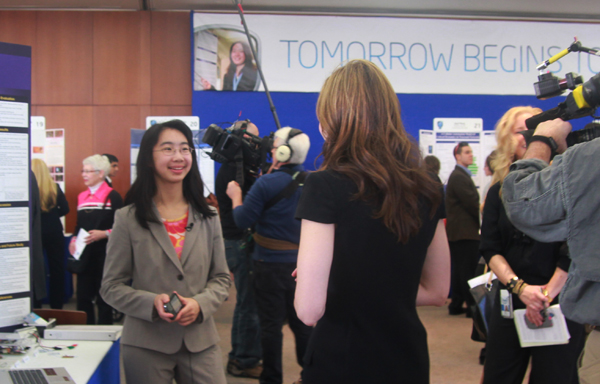 I didn't see anything like those gadgets at Sunday's Intel Science Talent Search project exhibition in Washington, D.C. The 17- and 18-year-old finalists aren't gluing together plastic and cardboard, and they sure aren't getting their fathers to do their projects for them.
Adam Joseph Bowman built a plasma gun in his family's garage out of parts he bought on eBay. The gun is about the size of a toaster and shoots searing jets of charged particles down a metal tube. He crafted a fiber optics system to track the plasma's path, and is working on a simpler device that would cost less than $200. Adam thinks his invention could help institutions with tight budgets teach students about plasma dynamics.
When I asked Adam how he knew how to make a plasma gun, he shrugged. After all, as a freshman, he built an electron accelerator.
Like Adam, Catherine Wong and Sara Volz also started their projects at home. Catherine, a 17-year-old from New Jersey, began building wireless medical devices — a stethoscope and an EKG — in her garage. Both instruments are inexpensive (she got her parts at RadioShack) and transmit heartbeats, lung sounds or EKG data to a cellular phone. Her project could bring better health care to people in the developing world, she said.
Catherine is poised, well-spoken and passionate. In fact, her composure slipped only when someone asked about her summer plans. What special treat had her almost too excited to speak? Tickets to Justin Bieber or Taylor Swift, perhaps? "I'm going to work at MIT!" she answered.
Sara Volz's lab is in her bedroom. The 17-year-old Colorado native built an algae farm under her lofted bed. She has 40 glass flasks growing algae 24 hours a day, and has timed her room's lights to turn on and off with the algae's light cycle. Sara figured out how to boost algae oil levels, a trait that could make the photosynthetic organisms more attractive as a source of biofuels.
Sara has a microscope in her room, and this Christmas she got her very own centrifuge. Her long-term goal, she has said, is to understand the universe. In the meantime, maybe she can help me with my latest idea: a biofuel-powered bottle rocket.