Society's STEM Action Grant Program supports Black Girls Dive Foundation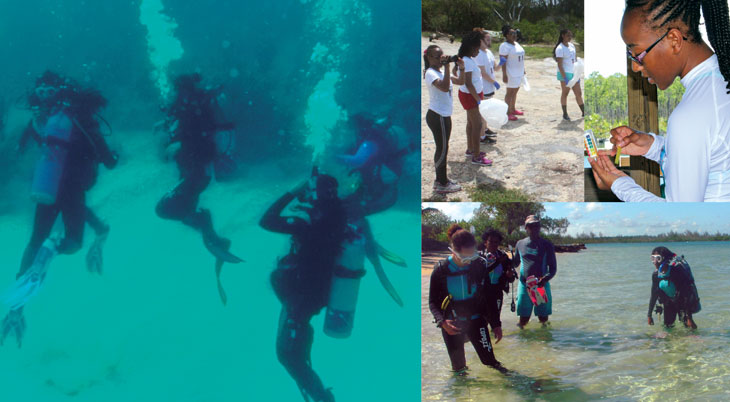 Historically, a number of societal and systemic barriers have prevented black men and women from enjoying an activity as simple as swimming. According to the USA Swimming Foundation, 64 percent of black children don't know how to swim. There are similar barriers for many black children who want to learn more about science, technology, engineering and math, or STEM, fields. To address both of these issues, Nevada Winrow, a neuropsychologist working in education, started the Black Girls Dive Foundation based in Owings Mills, Md. The organization is dedicated to providing underserved and under-resourced girls between the ages of 9 and 17 with valuable skills in STEM and aquatic-based recreation.
In June, the foundation was one of 20 community-driven nonprofits that received a STEM Action Grant from Society for Science & the Public. The STEM Action Grant Program aims to support organizations that are working to enhance the public's understanding of science and increase participation of underrepresented populations in STEM fields.
Through her organization, Winrow is influencing a new generation of women to take up STEM. "Because of the Society's support, 75 people have been able to explore their STEM identities through engagement in STEM activities and mentorship from leading experts in their field," Winrow says. "Postsurvey results even showed that participants saw themselves as scientists, as opposed to the presurvey where they reported that they did not see themselves as scientists."
This is the foundation's second $5,000 grant from the Society. In 2018, the foundation received $5,000 to support a program called STREAMS, for science, technology, robotics, engineering, art and mathematics with scuba diving. Participants cultivate science-literacy skills and engage in activities such as building underwater remotely operated vehicles, taking scuba lessons and starting conservation initiatives at the local and international levels. The 2019 grant will help the foundation fund supplies and equipment, provide staff training and support participants' capstone projects.
Students have raved about STREAMS. "This program is the best thing ever. I get to brag that I know how to scuba dive, and I can identify many kinds of fish," says one participant.
A total of $65,000 was awarded this year through the STEM Action Grant Program, with $30,500 going to 10 organizations that previously received support. To date, the Society has given $170,000 to 29 organizations seeking to improve access to STEM education.