View the video

After a day of computer programming and poring over genetic data, Pardis Sabeti relaxes her brain by writing rock songs.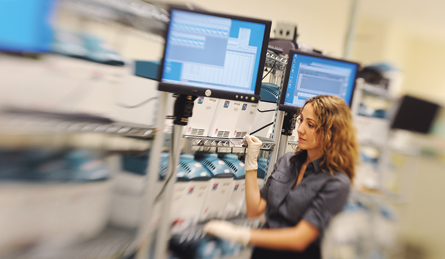 Born in Tehran, Sabeti is a computational biologist at Harvard and the Broad Institute of Harvard and MIT. She studies human evolution — past, current and future. Her cutting-edge work on the adaptations of humans and the microbes that infect them placed her among the World Economic Forum's Young Global Leaders for 2012. And when she's not in the lab, she's the lead singer of an alternative rock band in Boston called Thousand Days.
"When my brain is most active in science, I'm also most musically creative," she says. It's not that either music or science fuels the other, she explains, but rather that at times her brain enters a creative mode where both just flow.
If her publication record is any indication — Sabeti and her colleagues have already pushed out 13 scientific papers this year — her brain keeps busy by innovating.
Sabeti's team has crafted computer programs to find human genes that have been shaped by natural selection. Much of her work focuses on how humans have adapted to infectious organisms, so she looks for genes that have been altered to confer resistance to certain diseases. These kinds of genes offer a big survival advantage and tend to spread rapidly through human populations.
She has found hundreds of such genetic variants in people living in places where diseases such as tuberculosis, leprosy and malaria are common. Understanding how these genes help fend off illness may eventually benefit people who were not born with such a genetic endowment, by helping to develop new drugs or other therapies.
In her newest work, Sabeti is also investigating the possibility that some variants in genes that affect hair follicle and sweat gland development might have given certain people some sort of evolutionary edge.
Subscribe to Science News
Get great science journalism, from the most trusted source, delivered to your doorstep.
Her music is no less novel. From the beginning, Sabeti and her bandmates performed original music. "We didn't do covers so no one would know how bad we were," she says of a band she and two friends started in graduate school. "If you do your own stuff, no one knows how it is supposed to sound."
Making music may sound like the more glamorous of her pursuits, but Sabeti says research also has its attractions. "For me, it really is a hunt," she says. "It's thrilling."
---
Soundtrack of a science life
Alternative rock music has played an important role in the life of computational biologist and rocker Pardis Sabeti. Here's some of the music that has moved her:
Substance by New Order Sabeti says she first fell in love with alternative rock in the car on the way to tennis practice in seventh grade.
Sixteen Stone by Bush The album "really got me through my senior year at college."
Fischerspooner The band will forever be associated with studying for medical board exams, Sabeti says.
Pretty Hate Machine by Nine Inch Nails When everyone else had left the lab for the evening, Sabeti cranked up Nine Inch Nails and collected the experimental data needed to finish her Ph.D.
Rokstarr by Taio Cruz and F.A.M.E. by Chris Brown Sabeti says these albums and other "really good hip-hop" put her in the right frame of mind to respond to criticism in reviews of her scientific papers: "You feel good about yourself, but you're ready to fight."
---