From the April 16, 1932, issue
NEW INDIAN TOMB YIELDS STRIKING ARTIFACT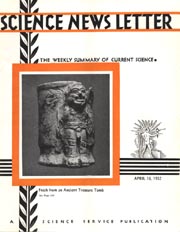 The first picture to reach the United States of one of the most striking art objects recovered from Indian tombs recently opened at Guerrero, Mexico, is shown on the cover of this weeks Science News Letter. The vessel was photographed just as it was taken from the tomb, with earth still clinging to it. The style is said to be similar to that of the Toltecs, a powerful Mexican Indian tribe that attained a high civilization about the time of the Middle Ages.
Science News headlines, in your inbox
Headlines and summaries of the latest Science News articles, delivered to your email inbox every Thursday.
Thank you for signing up!
There was a problem signing you up.
SUGAR PLAYS LEADING PART IN PNEUMONIA GERMS ACTIVITY
A new understanding of the much-feared pneumonia germ was presented by Dr. Oswald T. Avery of the Hospital of the Rockefeller Institute for Medical Research at the convocation in San Francisco of the American College of Physicians. A complex sugar plays a leading part in the germs disease-producing activities, it appears from the research Dr. Avery described.
The pneumococcus, or pneumonia germ, is surrounded by an envelope of material known as the cell capsule, he explained. Without this capsule the germ has no power to invade the body or to cause disease and it is easily taken up and destroyed by the phagocytes or scavenger cells of the body, it has been found. This important capsule is probably composed largely of a soluble sugar-like substance made by the pneumococcus. Each of the different types of pneumonia germ produces its own specific sugar-like substance, Dr. Avery said.
Subscribe to Science News
Get great science journalism, from the most trusted source, delivered to your doorstep.
LONELY MAGNETIC POLES MAY CHANGE IDEAS OF UNIVERSE
The idea that there can exist in nature a magnetic pole free from the clutches of a magnetic pole of opposite sign is receiving discussion in British scientific circles.
The possibility that one part of magnetism might be separated from the other was suggested by Dr. P.A.M. Dirac, the mathematical physicist of Cambridge University, who recently spent some months in America at Princeton University. He is recognized as one of the most brilliant of living physicists.
Roughly expressed, it is conceived possible and consistent with the quantum theory of physics that a compass needle of the smallest size could be cut in two in the middle and the north pole separated from the south. No one has ever been able to separate the two poles of a magnet. Classical theory in physics considers magnetism as a manifestation of electricity, each molecule being an elementary magnet due to the orbital revolutions of the electrons inside.