From the April 30, 1932, issue
SPIRAL NEBULA IN ANDROMEDA BORDERED WITH STAR CLUSTERS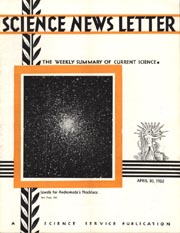 Tiny flecks of hazy light around the borders of one of the most famous of the spiral nebulae, the one in the constellation Andromeda, are now believed to be great globular clusters of stars–literally swarms of suns crowded like clouds of gnats that hang over the marshes at twilight.
This provisional identification was made by Dr. Edwin Hubble of the Mt. Wilson Observatory of the Carnegie Institution of Washington, after a careful study of 140 objects. Their astronomical behavior led him to the conclusion that they are probably star clusters, similar to the easily identified clusters that belong to our own particular part of the starry universe. Prof. Hubbles report was presented before the National Academy of Sciences.
Science News headlines, in your inbox
Headlines and summaries of the latest Science News articles, delivered to your email inbox every Thursday.
Thank you for signing up!
There was a problem signing you up.
The Andromeda nebula is one of the most famous of these great "pinwheels of the sky," whose spiral structure can be discerned only by means of the most powerful telescopes. Although it consists of so many thousands of stars that the 149 probable clusters on its border are mere incidents of its structure, it can barely be seen as a bit of light by the naked eye. This is because it is so immensely distant from the galaxy to which our own solar system belongs. Its distance has been measured as 900,000 light-years.
On the cover of this weeks Science News Letter is a photograph of a typical star cluster. It is not one of Prof. Hubbles 140 Andromeda objects, which are too far away to show so much detail, but one belonging to our own galaxy. It serves, however, to illustrate the great beauty of these symmetrical crowded masses of stars. The photograph was made at the Mt. Wilson Observatory.
Subscribe to Science News
Get great science journalism, from the most trusted source, delivered to your doorstep.
NEW AID FOR DEAF TRANSMITS SOUND THROUGH BONES OR TEETH
A new device that brings radio and phonograph music to the deaf, not by way of the outer and middle ear passages but through their teeth or the bones of their heads, was demonstrated before the National Academy of Sciences by Dr. Frederick Bedell, physicist of Cornell University.
Dr. Bedell describes his apparatus as a "deaf speaker," because it serves a purpose similar to the loudspeaker in a radio set. The deaf speaker, however, does not broadcast sound, but carries it directly to the person, who holds the receiving part of the apparatus between his teeth or pressed against cheekbone or forehead. To other persons in the same room, the apparatus is silent, which Dr. Bedell regards as one of the notable advantages of the device.
SHADE TREES MAY DETECT SLOW LEAKS IN GAS MAINS
If one or two shade trees in a row along the street begin to put forth their leaves and flowers prematurely while their companions still remain dormant, it may mean that the gas main beneath their roots has developed a slow leak.
This suggestion is made by Prof. Carl G. Deuber of Yale University. Prof. Deuber states that illuminating gas, long recognized as poisonous to plants, acts as a stimulant when present in low concentrations. In this, it resembles many other poisons.